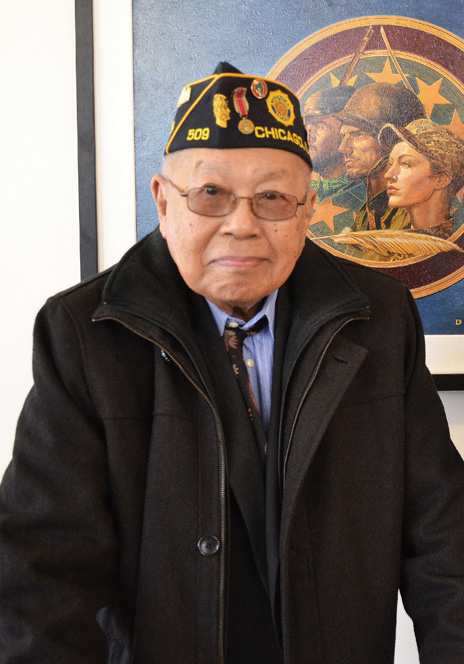 Record date:
Emilio Hidalgo, United States Army Forces in the Far East
If the attack on Pearl Harbor was a shock to Americans, imagine hearing the news as a soldier in the Philippines serving with the US Armed Forces in the Far East. From combat to capture; from escaping the Bataan Death March to participation in the partisans, Emilio Hidalgo's story is one not widely known, yet important to hear.
Emilio Hidalgo was born March 28, 1918, in Tanauan in the Batangas in the Philippines. The son of clothing vendors, he studied law at university. As a member of his university's ROTC, he was called to active duty on August 28, 1941, as part of a presidential order. He served as a 3rd Lieutenant in the 51st Field Artillery of the 51st Division on the Commonwealth Army of the Philippines which was part of United States Army Forces in the Far East [USAFFE]. He fought against the Japanese invasion of the Philippines from December 8, 1941, to March 1942 when American forces in the Philippines surrendered. Although an artillery commander, he also led troops in sweeps for Japanese parachutists in Bataan.
Present at Major General Edward King Jr's surrender of American-Philippine forces in Bataan to General Homma, Hidalgo later escaped and was captured. After his escape, he continued fighting the Japanese as part of President Quezon's Own Guerillas in his home region of the Batangas, until the Philippines was finally liberated in 1945. After the Philippines was liberated, he volunteered to join the Filipino units that were going to support the Allied invasion of Japan, but with the dropping of the atomic bombs, that was no longer necessary.
After the war, he finished his schooling and served as a lawyer for the Judge Advocate General [JAGs] of the Armed Forces of the Philippines, where he spent sixteen years combatting smuggling in the Philippines and eventually retired as a full colonel in JAGs. Hidalgo then moved to the US, where he lived with his wife until his passing.
Hidalgo expressed disappointment with the Rescission Act of 1946 which determined that service in USAFEE would not count as US military service and thus benefits to Filipino soldiers would be denied. That being said, Hidalgo remains very supportive of American values and has a fierce pride for his adopted country. He hopes that the Filipino-American relations will remain good in the future.
Colonel Emilio Hidalgo's interview was conducted by Honorable Generoso D. G. Calonge, Consul General of the Philippines, in Chicago, 2015.