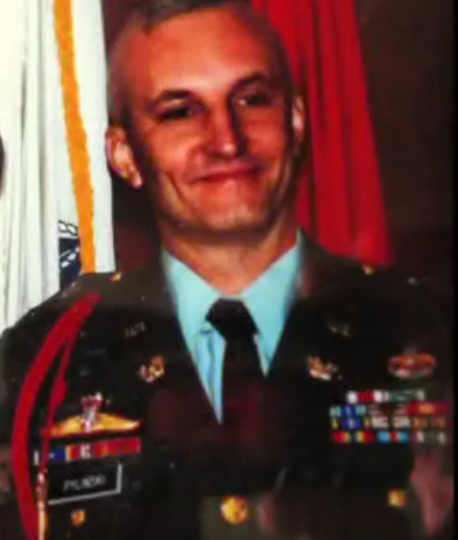 Shawn Pylinski,
Chief Warrant Officer 3
A 23-year veteran of the U.S. Army, Shawn Pylinski is honored by Aaron Pylinski.
Chief Shawn Pylinski—known to most as "Pistol," after the famed basketball player "Pistol" Pete Maravich—dedicated his service in the U.S. Army to being an intelligence professional first and a soldier always. From his days as a Military Policeman to working in Counter Intelligence in the Airborne and Special Operations communities, Shawn exemplified the true spirit of military service.
He was assigned to the 75th Ranger Regiment, the 1st and 5th Special Forces Groups (ABN), respectively, and the 519th Military Intelligence Battalion (TE) (ABN), where he saw combat during Operation Desert Shield/Desert Storm. Shawn is a graduate of the U.S. Special Operations Command Advanced Airborne School, was a Master Parachutist, and is the original Jumpmaster of the Universe. 
Though a dedicated military man, Shawn was also a mentor and hero to his children as they were growing up, and set the standard for living a dedicated and purposeful life. Shawn left the Army in 2001, but not before swearing his middle son into the military to follow in his footsteps and carry on the family tradition of service. When Shawn retired from the military, he was awarded the Legion of Merit for a long and glorious 23-year career in service to his country. His dedication to duty reflects great credit upon himself, the United States Military, his family, and all service members past and present. Sua Sponte! De Oppresso Liber! Airborne! All The Way!

Book Dedicated: My Share of the Task: A Memoir by Stanley A. McChrystal