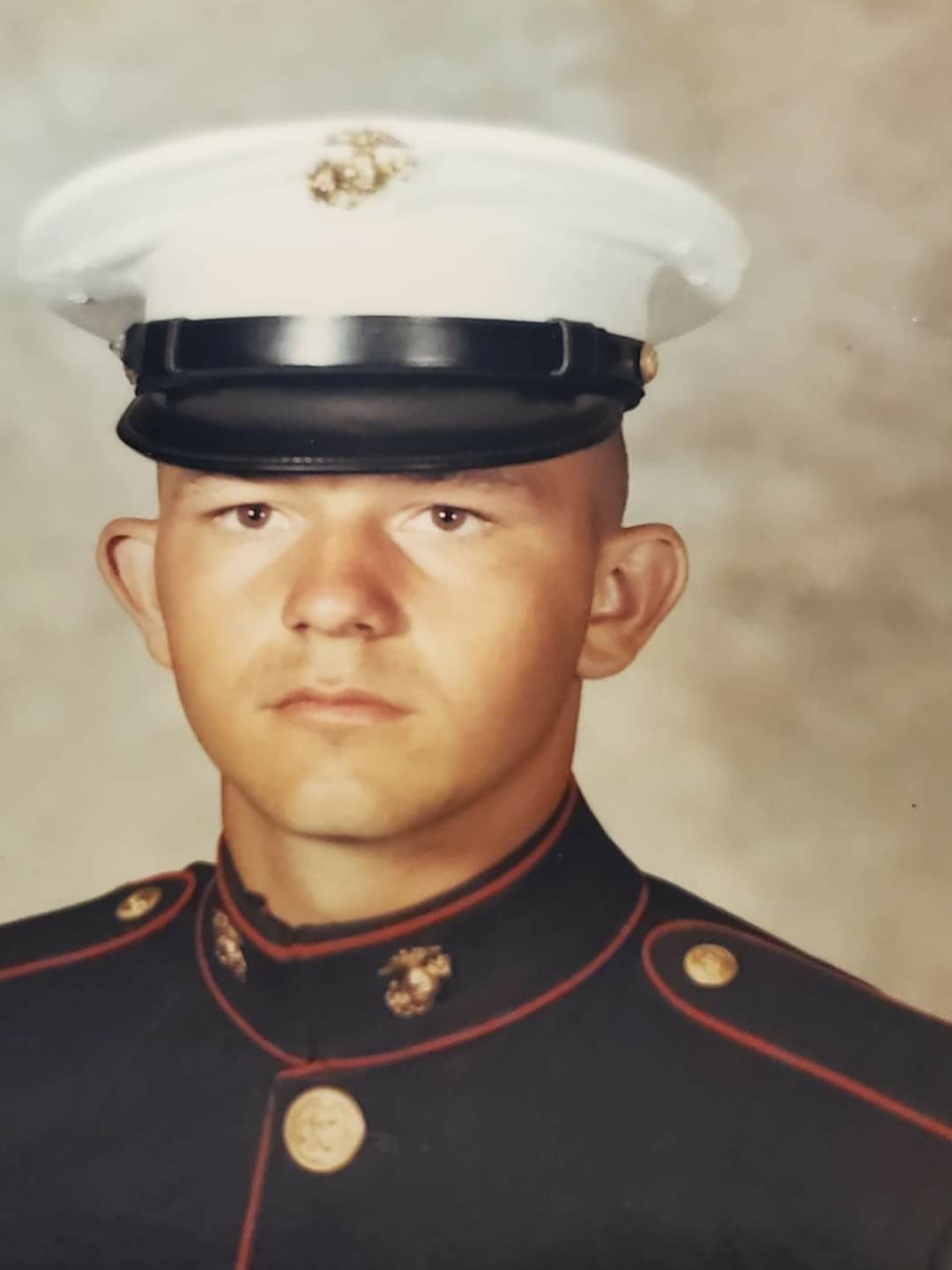 Michael Wilk,
Corporal
Vietnam War Veteran 

Corporal Michael Wilk i

s honored by the Worth, Sutherland, and Wilk families.
CPL Michael Wilk was born in Chicago in 1951.  He was the fourth child in a family of six. He was raised in the Bridgeport/McKinley Park neighborhood.  Growing up he played on baseball and basketball teams at the local parks. Michael attended Kelly High school.  While in high school Michael worked downtown at Woolworths. When he was 16 years old he met and fell in love with Faith "Cookie" Gresens.  By the time Michael graduated high school in June of 1969 the Vietnam War was well under way.  Michael made the brave decision to enlist in the U.S. Marine Corps.
In January 1970, Michael set off on his journey across the country to start Marine Corp Boot Camp.  He did is basic training at the Marine Corps Recruit Depot (MCRD) in San Diego, CA.  Through his physical, mental, and moral training he transformed from a young man into a Marine. Many say that Marine recruit training was the most difficult thing they ever had to do in their lives.  This training helped to form the bedrock of his character and values of honor, courage, and commitment.  Michael graduated from bootcamp in June of 1970.  He then moved on to the second stage of his journey with Infantry Training Regiment (ITR) at Camp Pendleton.  After completing ITR training, Michael went to Sea School.  This is where they trained Marine Detachments for duty aboard Naval vessels.
In September 1970, Michael was stationed in Guam aboard the USS Proteus (AS-19), a subtender, where they were charged with guarding nuclear missiles. He served on the USS Proteus from September 1970 through November 1971.  He was also a part of the honor guard. In November of 1971 he was stationed in Vallejo, California.  In March of 1972 while home on leave, he married his high school sweetheart, Cookie.  He was home on a short leave, before heading back to Vallejo.  In August of 1972 Michael was transferred to the Great Lakes Naval Air Station.  On January 26, 1973, Michael completed his service and was honorably discharged from the United States Marine Corp.
He and his wife went on to raise three daughters on the southwest side of Chicago.  After many years of management roles in distribution facilities, Michael finally retired.  With him and his wife both retired they spend their time traveling, relaxing, and enjoying time with their family.  Michael is still very much a proud Marine. When you get him talking he will share stories and reminisce about his time in the service. Some of his stories are light and funny as he talks about some of the goofy things they did.  Others are shocking as he talks about the things he saw, did, and had to endure.  Sadly, some stories shake your faith in humanity to hear about the brave men and women that served and defended our country who came home to citizens harassing them, spitting on them, refusing them service, and so much more. With the physical, mental, and emotional impact of military service, service during a time of war, Michael (our Dad) still stands as a proud Marine living out the values of honor, courage, and commitment.
Some people wait their whole lives to meet their hero, ours raised us!  We love you Daddy!
Book dedicated: Making the Corps by Thomas E. Ricks