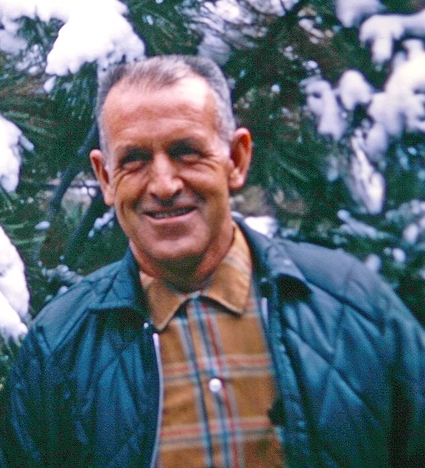 Harold Glenn,
Master Sergeant
Glenn served honorably in WWII in the South Pacific. Glenn is remembered by Michael Sturch.
Harold W. Glenn was born on February 17, 1916 to Chalmer and Octa Glenn in Delavan, IL. He had four brothers and one sister. He was raised on a farm until early in 1940 when he joined the Illinois Army National Guard. He married Ruth Poppengae on October 14, 1941. He was called to duty with the regular Army when his Illinois National Guard unit was federalized as part of the Americal Division, and stationed in Fort Lewis, Washington in the fall of 1941. It was there they had their first child, Norma Jean in 1941. He then shipped off to serve with the 33rd Infantry Division during World War II in the South Pacific. He served in the infantry, and among other duties, was assigned as a machine gun instructor. He returned home in late 1944 or early 1945 after receiving combat injuries, and was honorably discharged from the Army with the rank of Master Sergeant.
They settled in Delavan, IL and had their second child, Roberta, in 1945. He farmed for many years and worked construction with Cullinan Brothers Construction Company. He started his own excavating business and did that for many years. He then worked as the Streets and Roads Commissioner for the City of Delavan, retiring in 1990. He had 6 grandchildren and 10 great-grandchildren before his death in May 1996. His wife Ruth preceded him in death in April 1995. Three of his grandsons also served in the military; one in the U.S. Marine Corps and two in the U.S. Air Force.
His decorations include the Purple Heart, Army Good Conduct Medal, American Defense Service Medal, Asiatic-Pacific Campaign Medal, WWII Victory Medal, and Army Meritorious Unit Commendation.
Book Dedicated: Guadalcanal by Richard B. Frank