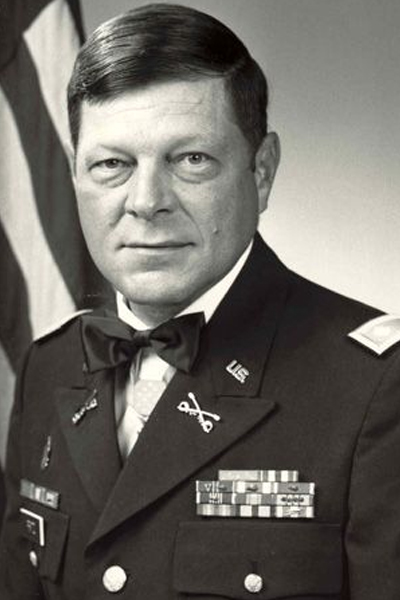 Record date:
Medal of Honor Recipient Harold "Hal" Fritz Interview
In a ceremony at the White House on March 2, 1971, Harold Fritz received the Medal of Honor.
Born in Chicago, Harold Fritz had been studying to be a veterinarian when he received his draft notice in 1966. Three years later, he was a first lieutenant with the 11th Armored Cavalry Regiment in Vietnam, and almost due to head home. However, on January 11th, an explosive ambush brought his supply convoy to a sudden halt. In the initial attack, Fritz was seriously wounded. As he climbed atop his burning vehicle, he could see his platoon in disarray, surrounded by a North Vietnamese force more than five times their size. They were on the verge of being overrun.
Fritz reacted immediately, running between the remaining vehicles to direct fire and set up defenses. As the enemy pressed forward, Fritz manned a machine gun and beat them back; when a second wave began to gather, Fritz led his men in a charge – armed only with his pistol and a bayonet – that caught the attackers by surprise, giving the Americans some breathing room. Hit several more times by shrapnel and small arms fire, the indomitable lieutenant was preparing for his next move when a tank platoon appeared down the road. His call for help had, in fact, been heard. A relief force arrived, and with Fritz's direction, the battle quickly turned.
Over the course of his service in Vietnam, Harold Fritz earned a Purple Heart with Oak Leaf Cluster, a Silver Star, and numerous other commendations. After 27 years of service, Fritz retired from the Army as a lieutenant colonel. He currently lives in Peoria and works in veterans' affairs.
His Citation Reads:
For conspicuous gallantry and intrepidity in action at the risk of his life above and beyond the call of duty. CPT (then 1st Lt.) Fritz, Armor, U.S. Army, distinguished himself while serving as a platoon leader with Troop A, near Quan Loi. CPT Fritz was leading his seven-vehicle armored column along Highway 13 to meet and escort a truck convoy when the column suddenly came under intense crossfire from a reinforced enemy company deployed in ambush positions. In the initial attack, CPT Fritz' vehicle was hit and he was seriously wounded. Realizing that his platoon was completely surrounded, vastly outnumbered, and in danger of being overrun, CPT Fritz leaped to the top of his burning vehicle and directed the positioning of his remaining vehicles and men. With complete disregard for his wounds and safety, he ran from vehicle to vehicle in complete view of the enemy gunners in order to reposition his men, to improve the defenses, to assist the wounded, to distribute ammunition, to direct fire, and to provide encouragement to his men. When a strong enemy force assaulted the position and attempted to overrun the platoon, Capt. Fritz manned a machine gun and through his exemplary action inspired his men to deliver intense and deadly fire which broke the assault and routed the attackers. Moments later a second enemy force advanced to within two meters of the position and threatened to overwhelm the defenders. CPT Fritz, armed only with a pistol and bayonet, led a small group of his men in a fierce and daring charge which routed the attackers and inflicted heavy casualties. When a relief force arrived, CPT Fritz saw that it was not deploying effectively against the enemy positions, and he moved through the heavy enemy fire to direct its deployment against the hostile positions. This deployment forced the enemy to abandon the ambush site and withdraw. Despite his wounds, CPT Fritz returned to his position, assisted his men, and refused medical attention until all of his wounded comrades had been treated and evacuated. The extraordinary courage and selflessness displayed by CPT Fritz, at the repeated risk of his own life above and beyond the call of duty, were in keeping with the highest traditions of the U.S. Army and reflect the greatest credit upon himself, his unit, and the Armed Forces.