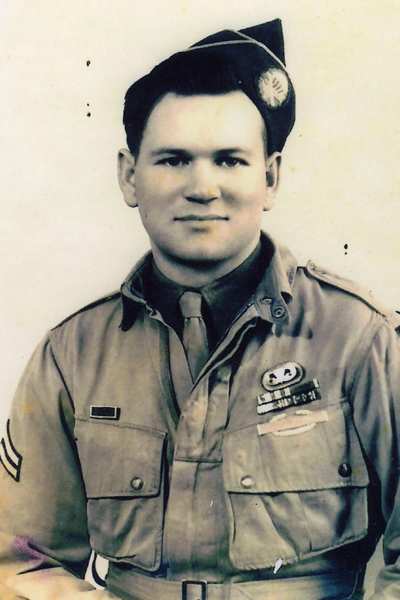 Record date:
Kenneth "Rock" Merritt transcription.pdf
Kenneth "Rock" Merritt, Command Sergeant Major
Kenneth "Rock" Merritt was the second parachutist to jump from his plane, at the Normandy invasion, in 1944, as part of the 1st Battalion 508th Parachute Infantry Regiment (PIR), in the 82nd Airborne Division.  Though his chain of command was killed, Merritt stepped up to the plate and successfully disabled German machine gun fire raining down on a pinned down group of US soldiers, near Hill 131.  For this he was awarded the Silver Star Medal. This oral history was recorded as a companion to  Century of Service: U.S. Army 82nd Airborne Division
Merritt was born in Warner, Muskogee County, Oklahoma on 10th of August 1923 which meant that much of his childhood was shaped by the Great Depression and the Dust Bowl. When he was seventeen, Merritt joined the Civilian Conservation Corps (CCC) to help support his family. It was during those two years in CCC that he met his future wife, Sally, got his first taste of barracks life, and earned the nickname "Hard Rock" for his tough attitude. Shortly after Pearl Harbor was bombed and the US went to war, the CCC was shut down. So, in early 1942, Merritt decided to enlist rather than wait to be drafted as he wanted to join the Marines. On his way to enlist with the Marines, he passed by the Army Airborne recruiters and the prospect of jumping out of airplanes and $50 a month jump pay appealed to him, so he joined the Airborne instead. 
After enlisting he was sent to training with the1st Battalion 508th Parachute Infantry in Fort Blanding, Florida and from there to jump school in Fort Bennings, Georgia. After being deployed to Ireland with the 508th's parent unit, the 82nd Airborne Division, Merritt and his unit received additional training to prepare them for D-Day including officer's training which would ultimately be very important as because so many officers in the 508th were killed within the first 24 hours of D-Day. Even though Merritt started June 6th, 1944 as a corporal, by the end of the day he was a buck sergeant. Nor was this the only time that Merritt had to take command after his superiors were killed or incapacitated. He took over command of his platoon during the later stages of the Battle of the Bulge after both commissioned officers were wounded. As part of the 82nd Airborne division, Merritt also fought in Operation Market Garden. After the Battle of the Bulge, he was lucky enough to go home on leave, returning to Europe a few days before the Germans surrendered. 
After the war, Merritt decided to remain in the Army and ended up serving a total of thirty-six years, fourteen of them, abroad, eventually being promoted all the way to Command Sergeant Major. Although he spent most of the time, in and around Fort Bragg, North Carolina where he still lives, he also spent fourteen years overseas: in Germany, Korea, Vietnam, and Panama. It was during this time that his commanding officer, Hank Emerson, shortened his nickname to "Rock" after the nickname of one of the finest officers under whom Emerson had served. Even though, Merritt retired over 40 years ago, he continues to give regular speeches on leadership to members of the 82nd Airborne and other units and is still very involved with the training programs going on at Fort Bragg.