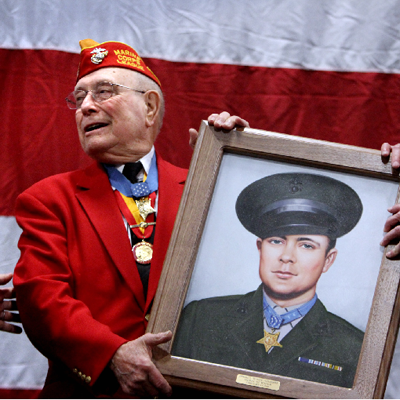 Hershel "Woody" Williams Collection
Featured prominently in the Museum & Library's exhibit dedicated to the Medal of Honor, this collection includes a citation and authentic Navy Medal of Honor issued to former Marine Woody Williams, a veteran of the iconic Battle of Iwo Jima.
Hershel "Woody" Williams was born in 1923 and raised in West Virginia. After initially being rejected by the U.S. Marine Corps in 1943 for being too short, he was able to join the Marine Corps Reserve a few months later when the height requirement was reduced. On October 30, 1943, he joined the 32nd Replacement Battlion, which was sent to fight in the Pacific Theater of World War II. Williams fought in the Battle of Guadalcanal and in Guam before landing on Iwo Jima on February 21, 1945.
Two days later, on the day the flag was raised on Iwo Jima's Mt. Suribachi, Williams' unit was bogged down in a heavily fortified area. Williams, with the aid of cover fire from only four Marines, used a flamethrower to attack enemy machine gun pillboxes. After destroying several Japanese positions, he opened a gap in the Japanese defenses which enabled the Marines to move ahead. For his actions on February 23, Williams received the Medal of Honor on October 4, 1945, from President Truman. He was also awarded the Purple Heart after being wounded on March 6. 
Following the war, Williams served in the Marine Corps Reserve and retired as a chief warrant officer in 1969. He became lay minister for his church and served as Chaplain Emeritus of the Congressional Medal of Honor Society. He was also a Veteran Services Officer at the Veterans Administration for 33 years, until his retirement in 1978.
Read Hershel "Woody" Williams' full Medal of Honor citation.
"This Medal really does not belong to me—I could not have received it without the assistance of other Marines. So when I wear this Medal, I don't wear it for what I did. I wear it in honor of two Marines—I don't know their names—who gave their lives protecting mine. It really belongs to them. I'm just a caretaker of it." -- Woody Williams