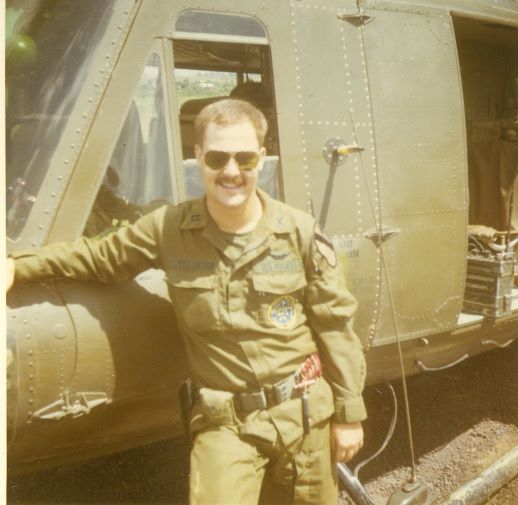 Record date:
Bruce Peterson, Army Helicopter Pilot
There's a select few who once they get into the military, they never leave. There may be brief moments when they contemplate leaving, but always find reasons to reenlist. Bruce Peterson is one of these lifers, and the highlight of his career was as a Bell UH-1 Iroquois "Huey" helicopter pilot in the Vietnam War.
Peterson is the one of three children—two sons and a daughter—and was born and raised in Chicago's South Side. After graduating high school, his father told him he'd have to pay rent. So rather than pay room and board for a bedroom he shared with his younger brother, he enlisted in the US Army. Peterson went to Fort Campbell, Kentucky, for basic training and Fort Eustis, Virginia, for advanced training, where he completed Huey and Chinook crew chief schools. Afterwards, he went to Officer Candidate School, graduated in six months as a second lieutenant, was assigned to the 6th Infantry Division, and then sent to the Schofield Barracks in Hawaii in1968.
While at the Schofield Barracks, Peterson worked odd jobs and hours at the R&R Center, in Honolulu.  All the soldiers were more than thrilled to assist the troops returning from Vietnam, he says, and some other troops were jealous. "Many times being an Infantry second lieutenant I was asked by the incoming flight, 'What are you doing here? Why aren't you in Vietnam?' I went, 'Army sent me. That's all I know.' 'Want to trade?'" Peterson recalls in laughter.
After Hawaii, Peterson went to helicopter flight school and trained at Fort Wolters, Texas and at Fort Rucker, Alabama where he learned to fly Hueys. He graduated flight school in December 1969, was sent to Vietnam in March 1970 as a captain, and stationed at the 1st Cavalry Division at at Phước Vĩn.
Peterson flew troops into scouting and assault missions during his tenure in Vietnam. Before landing his fellow soldiers into the landing zone, the area would endure nine minutes of artillery fire and one minute of suppressive fire from Bell AH-1 Cobras to ensure a safe landing. The Hueys were armed with two M60 machine guns on both sides for good measure, nonetheless. Fortunately, things were relatively quiet for Peterson, and his Huey was only hit twice during his year there. It was on a single mission supporting the South Vietnamese, but he's, "suspicious as to who fired on us that day because the one bullet they did dig out of the airframe was an M16 slug," Peterson says.
After returning to Vietnam, Peterson went to Fort Polk, Louisiana, to an advanced individual training brigade, where he worked several jobs, including company commander. He left active duty in 1972, stayed on as a reservist, and went back to school at the University of Illinois at Chicago. Despite completing his degree and finding work in sales, Peterson's "first love" was calling, and he went back on active duty in 1983 as a major in the Army Reserves. While stationed in Stuttgart, Germany, he discovered his unit was being sent to Saudi Arabia for the Persian Gulf War, where he stayed for nearly six months.
Peterson returned to the States and worked at the Aviation Logistics School in Virginia, Fort Monroe, and in the Training and Doctrine command for a second time until he officially retired from the military on April 1,1997, after twenty-two-and-a-half years of service. He has three children, none of which joined the military, and, unfortunately, divorced from his wife in 2006.
Peterson is heavily involved in the veteran's community, because he sees it as an opportunity to provide assistance to fellow veterans who've been less fortunate than he has been in post-military life. Peterson is satisfied, has no regrets about his military service, and thinks only the best of it. "The camaraderie of the unit in Vietnam was is a unique highpoint in my life. Never been that good since," Peterson says. "Have always enjoyed the soldiers I worked with, but that camaraderie was tight."