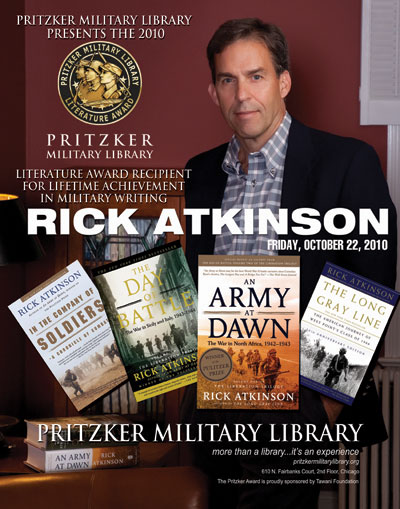 Rick Atkinson
Rick Atkinson received the 2010 Pritzker Military Library Literature Award for Lifetime Achievement in Military Writing.
The $100,000 honorarium, citation and medallion, sponsored by the Chicago-based Tawani Foundation, was presented at the Library's annual Liberty Gala on October 22, 2010. 
The Pritzker Literature Award recognizes a living author for a body of work that has profoundly enriched the public understanding of American military history. A national panel of writers and historians – including previous recipients James M. McPherson, Allan R. Millett, and Gerhard L. Weinberg – reviewed nominations and definitive works submitted by publishers, agents, booksellers, and other professional literary organizations.
Atkinson recently completed his trilogy about the American role in the liberation of Europe in World War II. The first volume, An Army at Dawn, won acclaim for its brilliantly researched, deeply felt narrative of the Allied campaign in North Africa. It was followed by The Day of Battle, which interwove portraits of Eisenhower, Patton, Roosevelt, and Churchill with unforgettable images of soldiers confronted with the transformative effect of fear and violence. He is also the author of In the Company of Soldiers, which followed the 101st Airborne Division and Gen. David Petraeus in Iraq; Crusade, a narrative history of the Persian Gulf War; and The Long Gray Line, a narrative account of West Point's class of 1966.
Born in Munich, in the Federal Republic of Germany, Rick Atkinson is the son of a U.S. Army officer and grew up on military posts. A graduate of the University of Chicago, he worked as a reporter, foreign correspondent, and editor at The Washington Post for a quarter century, holding tenures as the assistant managing editor for investigations, the deputy national editor supervising national security coverage, and the Berlin bureau chief, at which he covered not only Germany and NATO but also Somalia and Bosnia. 
Atkinson's awards include the 1982 Pulitzer Prize for national reporting; the 1999 Pulitzer Prize for public service, awarded to the Post for a series of articles he directed and edited on shootings by the District of Columbia police department; the 2003 Pulitzer Prize for history; the 1989 George Polk Award for national reporting; and the 2007 Gerald R. Ford Award for Distinguished Reporting on National Defense. 
For the 2004-2005 academic year, Atkinson was the Gen. Omar N. Bradley Chair of Strategic Leadership at the U.S. Army War College and Dickinson College. His wife, Dr. Jane C. Atkinson, is a researcher and clinician at the National Institutes of Health. They live in the District of Columbia, and have two children.