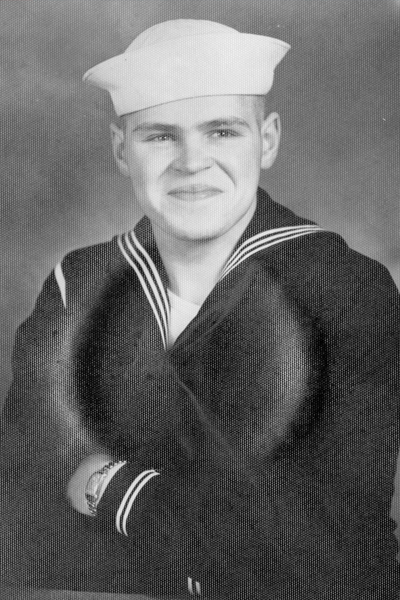 James C. Lanz,
Quartermaster 2/C
James C. Lanz was born in Monroe, Wisconsin, in 1926. In 1943, he followed his two older brothers into the military, enlisting in the Navy on December 7th--two years to the day after Pearl Harbor. Quartermaster Lanz is remembered by Lisa Marie Lanz.
Lanz served on a "Landing Ship Tank" LST-34 in the Pacific Theater, landing supplies and troops around the Pacific including on Leyte, Saipan, the Dutch East Indies, and Okinawa. It was in the Battle of Okinawa that Lanz's ship was struck by debris from a Japanese Kamikaze that was destroyed by the cruiser USS Birmingham's anti-aircraft batteries, damaging the ship beyond repair.
After making several stops, including back in Pearl Harbor, Lanz reached San Petro, California, where he was put on a troop train to return home. While on that train, the Atomic Bomb at Hiroshima was dropped. Despite the armistice of August 14, 1945, Lanz returned to Camp Pendleton for training aboard another LST, but soon received discharge papers, and was able to return home for good. After military service, Lanz took over a family Heating, Sheet Metal, AC & Ventilation Company, which he managed until his retirement 44 years later.
To learn more about James C. Lanz's service, hear him share his story through our Holt Oral History Program.
Book Dedicated: Memories of World War II: Photographs from the Archives of the Associated Press