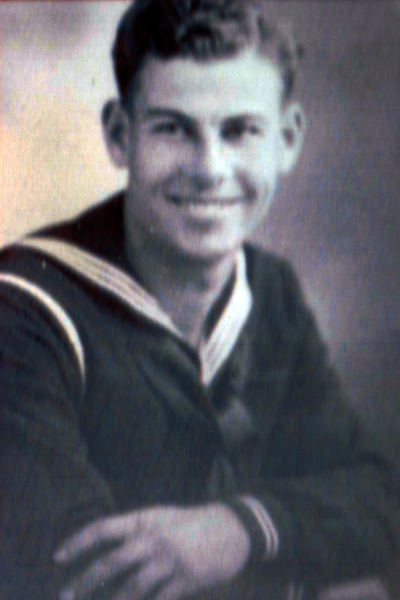 Casey W. Rachels,
Chief Warrant Officer
A veteran of World War II, Casey Rachels is remembered by Sharon Guidera and Robin Hobbs.
Casey W. Rachels was born on October 3, 1914 in Greenfield, TN. After finishing high school, Casey joined the U.S. Navy on June 5, 1936 and was assigned to the battleship USS New York. He was discharged June 5, 1940.
Casey was then drafted on March 16, 1941, chose the Navy, and was called to active duty and sent to Philadelphia, PA. On May 24, 1941, he boarded the Navy transport ship USS Chaumont for San Diego, CA. He arrived at Pearl Harbor on November 17, 1941. At the time of the attack on Pearl Harbor on December 7, 1941, Casey was involved in building a hospital on the island. He left Pearl Harbor after being promoted to Warrant Officer and was assigned to USS Petrof Bay, a small aircraft carrier. 
This ship escorted General McArthur's forces to the Philippines. During the landing there, they were involved in the Battle of Leyte Gulf, one of the greatest naval battles of any war at sea and considered to be the largest naval battle of World War II. Mindoro, Luzon, and Lingayen Gulf were their next battles. After these came Iwo Jima, then Okinawa.
Casey then returned to America with Petrof Bay and docked at San Pedro, CA on June 19, 1945. He was transferred to Nashville, TN as Barracks Officer, then became head of the Maintenance Department. He left Nashville on December 20, 1945 for Memphis, TN and was discharged on December 23, 1945. Casey's naval service, he was involved in six major battles. 
Following his second discharge, Casey returned to U. S. Steel in South Chicago, IL, where he had been employed between enlistments. He retired from his career as Maintenance Supervisor December 31, 1977.
Book Dedicated: The Battle of Leyte Gulf by Adrian Stewart