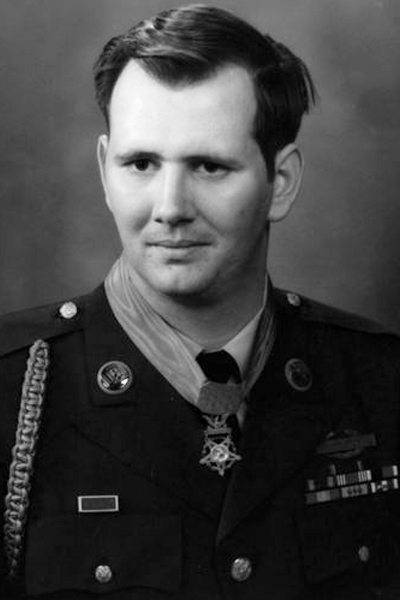 Allen J. Lynch,
Sergeant (Retired)
Medal of Honor recipient and Vietnam veteran Al Lynch is honored for his service by Colonel (IL) Jennifer N. Pritzker, IL ARNG (Retired), Kenneth Clarke and the staff of the Pritzker Military Museum and Library.
Born in Chicago in 1945 and raised in nearby Porter County, Indiana, Allen J. Lynch joined the U.S. Army just after finishing high school in 1964.  For two years, he developed his skills as a soldier while assigned to a unit in Germany, rising to the rank of Specialist Fourth Class before volunteering for service in Vietnam. Upon his arrival in the fall of 1966, Lynch was assigned to the 12th Cavalry—where he served initially as a rifleman before being appointed his platoon's radiotelephone operator.
On December 15th, 1967, Lynch and the rest of his platoon were on their way back for a well-deserved rest when they were called in to support another company that had been outnumbered by an enemy force. Under intense fire, Lynch carried three wounded soldiers to safety, and single-handedly defended them against the advancing enemy force for several hours. His quick-thinking and disregard for his own safety were vital in saving those lives, but his fight on behalf of his fellow soldiers did not end on the battlefield.
After leaving active duty, Lynch settled in Gurnee, IL and worked for several years in the Veterans Administration, advocating for increased benefits for disabled veterans, and served most recently as chief of the Veterans Rights Bureau for the Illinois Attorney General's Office. He also served with the U.S. Army Reserve and the Illinois National Guard until a mandatory retirement in 1994. He continues that commitment to service through his veterans foundation and through volunteer work with the Vietnam Veterans of America and the Lake County (IL) Jail.
Book Dedicated: 1st Air Cavalry Division: memoirs of the First Team, Vietnam, August 1965-December 1969