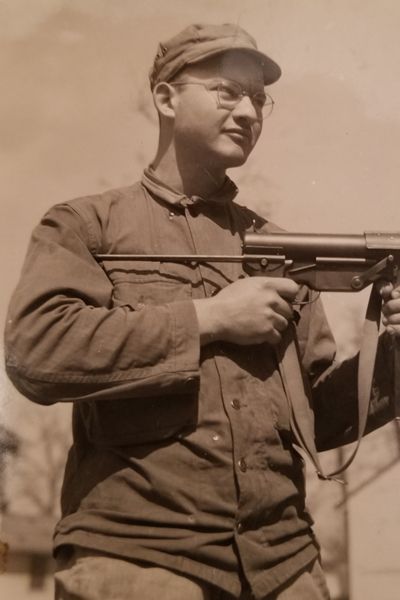 Record date:
Bernie Bluestein Transcript.pdf
Bernie Bluestein, PFC
Bernie Bluestein had to keep a secret for fifty years. His family knew he served in the US Army during World War II but much, if not all of his efforts there were kept classified until the 1990s. An aspiring artist from Cleveland, Ohio, Bluestein would play a pivotal role as a member of one of the most innovative and creative division in the European theater, the 23rd Special Troops, of the 603rd Engineers Camouflage Battalion, better known as the Ghost Army. His tour would teach him the ins and outs of creating camouflage, deception, and what it generally means to be a soldier. His time in Europe would take him from Normandy, near after D-Day, through to the allied crossing of the Rhine. Indeed, at Viersen, Germany, this battalion was so successful in impersonating two fighting divisions -- so that the 9th Army could cross the Rhine River -- that the men found themselves under a shelling attack. 
Bernie Bluestein was born on August 13th, 1923 in Cleveland, Ohio. Born to a tailor and a seamstress, Bluestein was encouraged to become an artist. Bluestein would attend a high school tailored to his interests, and thanks to a competition, would receive a full scholarship to attend the Cleveland School of Art. With the US entry into the war, he knew that he would most likely be drafted in a few months. While at school, he noticed an offering by the United States Army in the teaching of a camouflage class that would guarantee a position in a non-combat role. Bluestein would enroll in the class and be taught all the skills necessary for camouflage. He learned to hide buildings and people from the eyes of the enemy. When the time came, he would begin his training with the US Army at Fort George G. Meade, where they were taught how to set up dummies of planes, trucks, and tanks. He was taught to make patches, and how to disguise their unit as a completely different unit. Bluestein would arrive in England days before D-Day, remarking that he witnessed the incredible display of Allied air power the morning of the landing when based in Walton Hall. Bluestein and the rest of his unit would arrive in France a few weeks later and would immediately begin their missions. Though only a force of 1100 men, the 23rd Special Forces successfully simulated full divisions and units of up to 30,000 men. 
Bluestein also recounts the difficulties of facing antisemitic views of army officers and fellow soldiers. Though they faced difficult discrimination, Bluestein found the public to accepting of all who fought in the war upon his return. He would return from the war in 1945 and would immediately return to civilian life to art school. He speaks well of his experience but doesn't see himself as a hero, and that being a soldier during the Second World War was what one just had to do. It was expected of all. Bluestein has continued to cultivate his artistic skills at Harper College and is currently involved in sculpting six-foot pins and needles, evocative of his parents' needle trades. He also serves as an example to young people as to the importance of a focused life.