Pritzker Military Archives Center
Designed by JAHN, an award-winning, internationally recognized architectural firm, this space is a state-of-the-art center located in Somers, WI, to further the mission of the Chicago Pritzker Military Museum & Library through restoration, preservation, and storage of its collection. It features a Gallery Center that is approximately 9,400 square feet for public viewing, offering the local community the opportunity to immerse themselves in history.
This new, Wisconsin-based archive is necessary due to the overwhelming support of donors and families eager to protect their family's legacy and stories. Along with the archival space, workspace for the Pritzker Military Museum & Library staff is included for continued curation of the military collection for future exhibits. It also serves as an academic center for researchers and will be taking appointments upon request.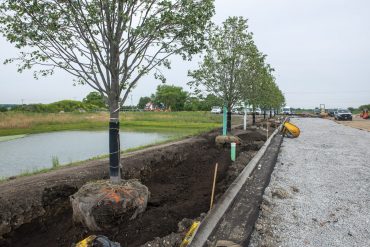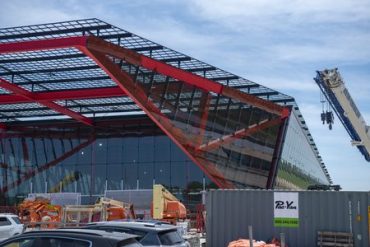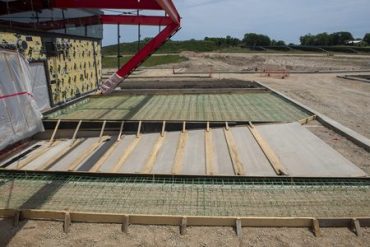 See Our Journey
---
A recap of our virtual groundbreaking and construction journey
A huge thanks to all our new neighbors in Somers, especially those that partook in our virtual groundbreaking in 2020. If you missed the groundbreaking, please check out the video above. As construction continues, the Pritzker Archives & Memorial Park Center is delighted to be welcomed as part of the Village of Somers and encourage the community to celebrate with us as the project moves forward!
October: "Putting Down Roots"
In October of 2020, we began to put down roots. Those that live near our new development most likely received a postcard in the mail about the project. That postcard allowed recipients to literally put down roots of their own by planting it in their yard. Come spring, beautiful wildflowers will begin to bloom around the Somers community thanks to the residents that chose to plant their postcards.
End of October - Early November: Enjoy "A Gift from Your New Neighbor"
As we transitioned from October to November, the Pritzker Archives & Military Park Center held "A Gift from Your New Neighbor" campaign which shared the gift of reading with neighbors living in the area by delivering a copy of the book Zero to Hero: From Bullied Kid to Warrior, written by Medal of Honor recipient Allen J. Lynch. Published by the Pritzker Military Museum & Library, Lynch tells the inspiring story that took him from bullies on the playground in 1950s Illinois, to the enemy on the battlefield in Vietnam, and eventually to the demons of PTSD he's battled ever since.
Veterans Day: "Honoring our Heroes"
Shortly after, for Veterans Day, we hosted a "Honoring our Heroes" event. As a tribute to our veterans, we invited everyone in the Village of Somers to join us in raising the American flag on November 11th. We provided free flags for Somers residents to pick up and offered a drive-thru system for flag kit pick-ups at David Leet American Legion Post #552 from November 6 through November 11. We were thrilled to see so many residents come out and share in raising a flag for our Veterans.
The American flags distributed were donated by the Pritzker Military Foundation in celebration of the groundbreaking and in honor of all our veteran heroes for Veterans Day.