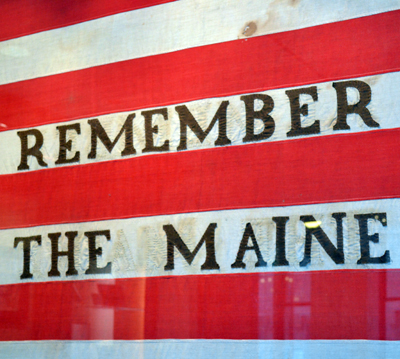 "Remember the Maine" 45-Star Flag
Originally produced in 1898 as an homage to the recently sunken USS Maine, this authentic 45-star American flag is emblazoned with the battle cry of the Spanish-American War.
On February 15, 1898, in a catastrophic explosion that was never fully explained, the USS Maine was destroyed in Havana Harbor off the coast of Cuba. While the cause of the explosion is still subject to wide speculation, popular opinion in the United States increasingly blamed an attack by Spain in retaliation for American intervention in Cuba's War for Independence—soon giving rise to the incendiary "Remember the Maine, to hell with Spain!" catchphrase and ultimately catalyzing the start of the Spanish-American War.
A focal point of the Museum & Library's permanent exhibit space, this extremely rare, original 45-star American flag is prominently displayed on our main floor in the center of our Medal of Honor exhibit. The canton and stripes of the flag are constructed of treadle-sewn cotton, as are the 45 white stars, which are double-appliqued. The flag also features a canvas sleeve with eight button whip-stitched grommets, and, more noticeably, black chintz letters hand-sewn across the flag's sixth and eighth white stripes.