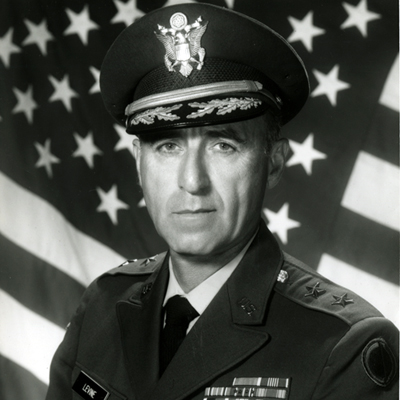 Maj. Gen. William P. Levine Collection
Featuring an assortment of military documents, maps, photographs, and artifacts from the service of Major General William P. Levine. 
Born July 1, 1915 in Duluth, Minnesota, William P. Levine enlisted in the U.S. Army in August 1942 and was commissioned a second lieutenant after completion of Officer Candidate School in May 1943. He served active duty with the 34th Anti-Aircraft Artillery Group as assistant S2 and S4 (intelligence officer), notably participating in the invasion of Utah Beach on D-Day and the liberation of the Dachau concentration camp. Following his discharge in 1946, Levine continued his service with the XIV Army Reserve Corps, as an executive officer (1960) and commanding officer (1962). In 1967, following the deactivation of the XIV Corps, Levine was appointed commanding general of the U.S. Army's 85th Division (training), and was finally promoted to Major General later that year.