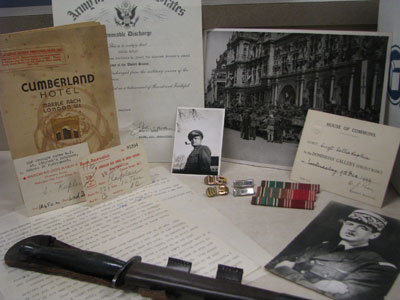 Lt. Sollie Kaplan Collection
Sollie Kaplan was born July 28, 1917 in Chicago. After attending business school at the University of Illinois, Kaplan enlisted in the Army Air Corps on January 7, 1942.
After service as a private and sergeant, he transferred to the Adjutant General Officer Candidate School at Fort Washington, Maryland, eventually receiving a commission as 2nd lieutenant on June 30, 1943. Kaplan served with the Air Corps in Southampton, England and Paris, France as an Administrative Officer and Adjutant in the Transportation Corps. Kaplan was discharged from the Army December 30, 1945 as a 1st lieutenant. He resumed a civilian career in construction and real estate development in Chicago until relocating to Florida. Lt. Kaplan passed away June 12, 2006, just before his 89th birthday.
The Kaplan Collection consists of records related to Lt. Kaplan's service in the Army Air Corps during the World War II. Folders include a set of snapshots of Kaplan and fellow officers, tourist photograph cards, and postcards acquired by Kaplan while on duty in Paris in 1944-45. Three remarkable photographs by an unknown photographer portray scenes from the Liberation of Paris in August 1944. Other highlights include passes and visitation cards representing the American Red Cross in France, the House of Commons visitors' galley, and many others. A 1945 newsletter from Kaplan's Army Air Corps base provides rare informal description of base life at the end of the war.