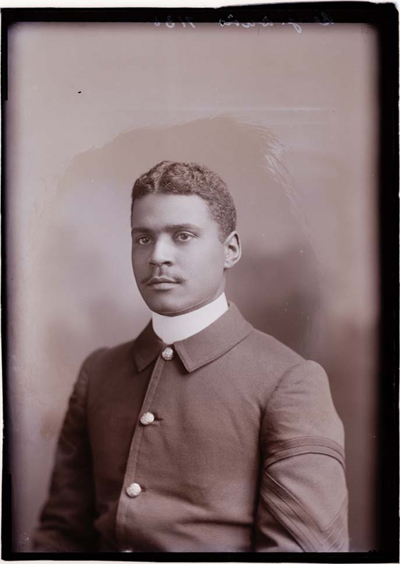 Benjamin O. Davis Photographic Print from Glass Negative (1901)
Long before Benjamin Davis made history as the first African-American U.S. Army General, he had this portrait taken at Fort Leavenworth while there for his officer's examination.
Davis had served as a Lieutenant in the 8th U.S. Volunteer Infantry during the Spanish-American War. After this temporary commission expired, he re-enlisted as a private in the 9th Cavalry. Just before this portrait was produced, Davis received news that he had passed the officer's exam—the first African-American ever to do so in the Regular Army.
Pictured here as a sergeant major in his earliest known uniformed photograph, Davis served as a 2nd Lieutenant in both the 9th and 10th U.S. Cavalries from 1901-1902, seeing combat action on the islands of Samar and Panay during the Philippine-American War. After receiving numerous citations for his service in the First and Second World Wars—and remembered best for his influence on integration within the Army while serving in the European Theater of WWII—Davis retired as a Brigadier General in 1948.