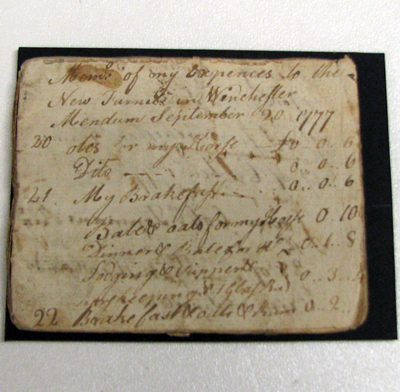 American Revolutionary War Journal
A young, unknown New Hampshire militiaman kept this detailed log of his service under Brig. General William Whipple from 1777-1779, before and during the Battle of Rhode Island. It stands today as one of the earliest records of Citizen Soldiery in our nation's history.
Among the oldest and most unique artifacts in our collection, this remarkable firsthand account of military operations during the American Revolution also includes a list of daily expenditures and details on travel, along with musical scores and remembrances of friends and loved ones. This 24-page vintage journal measures four inches by three inches, and is housed in a custom chemise and full morocco clamshell case.
A page from the journal is on display in our permanent exhibit dedicated to the Citizen Soldier.
"Landed on Rhode Island the 9th of August 1778. Landed at Howland's Ferry at about 5 o'clock in the morning, where we marched up to Butts' Hill Fort. The enemy left the Fort the day before, a little before sunset, and marched into the town. In 3 or 4 days we marched down to the Lines, within about 3 miles of the Town, where we laid about 8 or 9 days, then retreated to the upper End of the Island where the Enemy followed."
Read the full transcript, courtesy Bauman Rare Books.