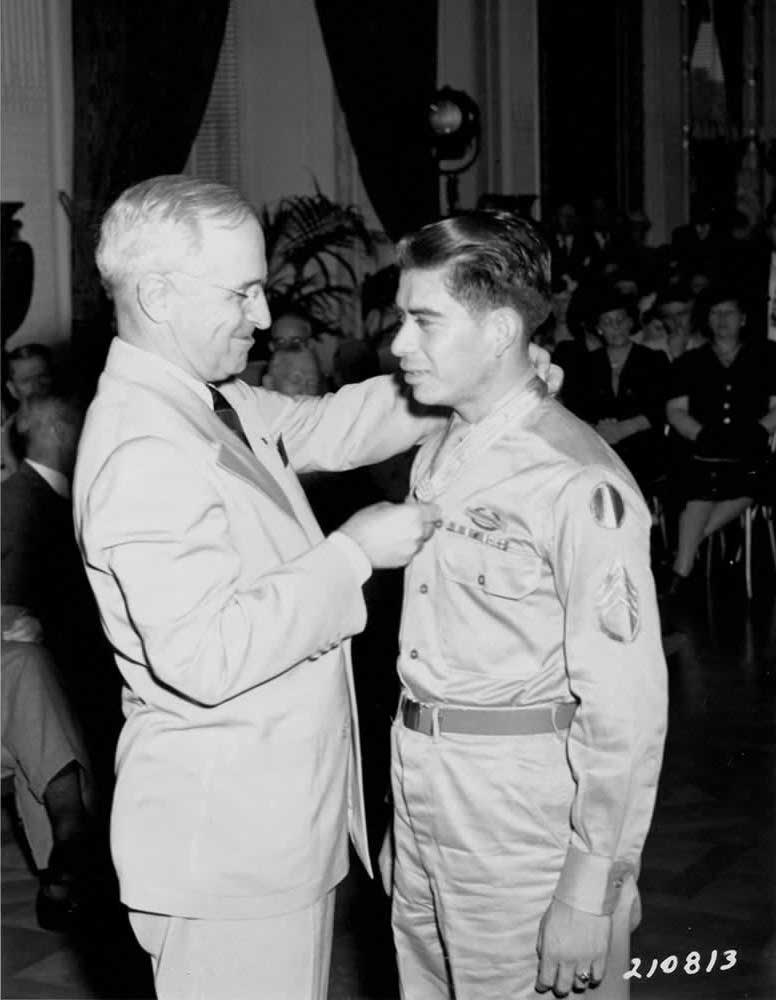 Hispanic American Medal of Honor Recipients
The Medal of Honor is the United States' highest military award for valor. Throughout its history, there have been 3,534 medals awarded to 3,515 recipients. Many of these awards were received posthumously. There are only 65 living Medal of Honor recipients as of the end of September 2022.
In honor of Hispanic Heritage Month, we are highlighting some of the Hispanic Medal of Honor recipients from past conflicts. We would like to introduce you to David Bennes Cantu Barkley, who served with Company A, 356th Infantry Regiment, 89th Division during World War I (1914-1918).
Born in Laredo, Texas, Barkley grew up in San Antonio. He first joined the Texas National Guard before entering the U.S. Army in April 1917, shortly after the U.S. entered World War I. He chose to enlist under his legal name, to keep his Hispanic heritage a secret, for fear of being kept from serving on the front lines. 
Barkley arrived in France with the 155th Infantry in August 1918. He was later assigned to Company A, 356th Infantry, 89th Division. On November 9, 1918, only days before the Armistice, he volunteered for a mission to reconnoiter the location of German enemy troops. He swam across the icy Meuse River with another soldier that also volunteered, and together they scouted and attempted to return to the far bank under enemy fire. They successfully scouted the German side of the river; however, Barkley was unfortunately unable to reach the American side, drowning in the river's frigid waters at the young age of 19.
David Bennes Cantu Barkley was posthumously awarded the Medal of Honor and was commended by General John Pershing. He also received the Croix de Guerre from France and Croce al Merito di Guerra from Italy. Currently, Barkley is the only known United States Army soldier of Hispanic heritage to receive the Medal of Honor for service during World War I.
By World War II (1939-1945), more Americans of Hispanic ancestry were serving in the United States Armed Forces. Seventeen of these service personnel would receive the Medal of Honor, including Manuel Verdugo Mendoza for an action that occurred on Mt. Battaglia, in Italy on October 4, 1944, as well as Macario Garcia for an action that occurred near Grosshau, Germany on November 27, 1944.
During the Vietnam War (1955-1975), twenty-two service personnel of Hispanic ancestry received the Medal of Honor. One of which being Alfred Velazquez Rascon, who visited the Pritzker Military Museum and Library in 2010 to share his story.
Park University's George S. Robb Centre for the Study of the Great War is working to identify minorities who were denied the Medal of Honor because of their race, ethnicity, or religion for their service during World War I through its Valor Medals Review project.  The Pritzker Military Foundation and the Pritzker Military Museum & Library have assisted with this effort.
The Pritzker Military Museum & Library would like to thank all the Hispanic Americans who have served in the United States Armed Forces, especially those who have sacrificed for our freedoms today.
To learn more about the Medal of Honor and its recipients, check out:
Benavidez, Roy P, John R Craig, and John R Craig. Medal of Honor: One Man's Journey from Poverty and Prejudice. 1St Memories of war ed. Memories of War. Washington, D.C.: Potomac Books, 2005.
Fernandez, Virgil. Hispanic Military Heroes. 1st ed. Austin, TX: VFJ Pub, 2006.
Flores, John W. Marine Sergeant Freddy Gonzalez, Vietnam War Hero. Revised ed. Jefferson, North Carolina: McFarland & Company, Inc, 2014.
Lanning, Michael Lee. Hispanic Medal of Honor Recipients: American Heroes. First ed. Williams-Ford Texas A&M University Military History Series. College Station: Texas A&M University Press, 2022.
McCarthy, Tom, ed. The Greatest Medal of Honor Stories Ever Told. Guilford, Connecticut: Lyons Press, 2018.
Mikaelian, Allen, Mike Wallace, and Mike Wallace. Medal of Honor: Profiles of America's Military Heroes from the Civil War to the Present. 1st ed. New York: Hyperion, 2002.
Owens, Ron. Medal of Honor: Historical Facts & Figures. Limited ed. Paducah, KY: Turner, 2004.