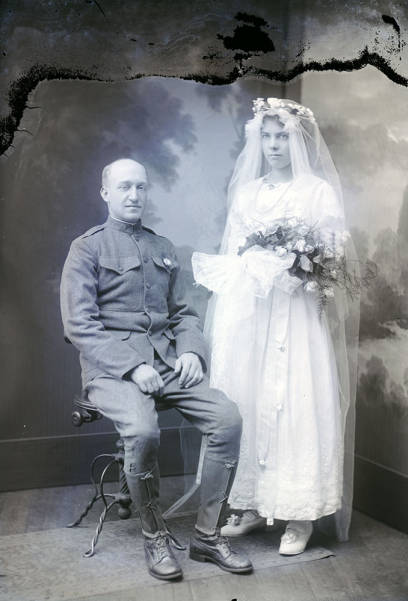 Celebrating love during times of struggle - Valentine's Day 2021
Happy (early) Valentine's Day from the Pritzker Military Museum & Library! We hope you have a day filled with joy and love, with your special someone. 
Love is a constant thread that runs through military history. For so many years, loved ones – mothers, fathers, husbands, wives, and children – have watched their soldier head off to conflict. These separations can be hard and filled with worry. Many would combat these feelings by sending letters back and forth between the home front and the warfront. Today, e-mail and phone calls have allowed soldiers to remain connected to life back home, but in the past, these letters were the only thing to bring comfort.  
Sweetheart jewelry became a trend during WWI, but it exploded in WWII. This practice was a way for wives, girlfriends and mothers at home to connect with their soldier. From embroidered pillowcases and handkerchiefs to purchased pins, these items were a fashionable and patriotic way to show support. 
In the Museum & Library's collection we have many of these items, including three WWI sweetheart pins specially made for a mother, as well as a brooch and a pin. 
In honor of Valentine's Day, we have brought together books and artifacts from the archives and shelves of the Pritzker Military Museum & Library. We hope they fill you with love and hope during this Valentine's day and those to come. 
The Milton and Beverly Pedolsky Collection contains materials related to Milton Pedolsky's service in the Army during World War II while stationed in India and Okinawa. Included in the collection are letters and photographs from Milton and cards and artwork from Beverly. 
This collection includes two Valentine's Day items,  a Valentine's day card and Valentine's Day poem about some qualities Beverly likes about Milton and how glad she is that he is hers. 
The Ernest G. Aruffo Collection contains materials from Aruffo's time as a platoon sergeant and supervisor for the 65th Field Hospital during World War II. During the war, Aruffo was stationed in France, Belgium, Luxemburg, and Germany. This collection includes letters, personal documents, photographs, and publications. 
His collection contains numerous letters back home, including a letter home to his wife Eva about her V-E (Victory in Europe) letter and how much he is looking forward to reuniting, a vinyl record message from Ernest Aruffo to Eva, and a scrapbook of Ernest and Eva together/getting married.  You can read the letters and cards below!
From our bookshelves, we have brought together books of letters back and forth between husbands and wives, love stories, war brides, and more: 
From our archives, we bring you images and prints of love and weddings across centuries: 
We hope you love these resources as much as we do!