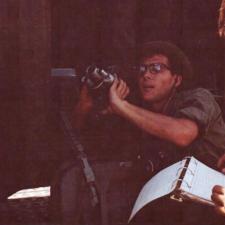 Record date:
Richard A. "Dick" Durrance - Specialist 5, DASPO (Department of the Army Special Photographic Office)
With a photographer/documentary filmmaker for a father and a photojournalist for a mother, photography flows through Dick Durrance's blood. Although he did not grab a camera until his sophomore year at college, inspired by a chance encounter with Ansel Adams' "Eloquent Life," since then, he has not put it down.
Durrance was born in Seattle, Washington, in 1942. He grew up in Aspen, Colorado, went to high school at Phillips Academy in Andover, Massachusetts, and then to Dartmouth College in Hanover, New Hampshire. In 1964, Durrance carried out his first photography assignment while canoeing down the Soviet Union-controlled Danube River, taking pictures for the National Geographic. Durrance struggled, however, at first with the camera, leaving the lens cap on for a photograph that he mourns with regret. The assignment was more than a success, though, and he and his fellow photographers crafted a forty-five page cover story, which was the most popular National Geographic story that year. At Dartmouth, Durrance interned for National Geographic the summer before his senior year and graduated from Dartmouth in 1965.
Durrance found work as a photographer after college but was drafted in July of 1966. From the moment he was inducted until the end of his service in DASPO, he kept a photographic journal. Durrance shot around 200 rolls of film throughout basic and advanced individual training, and he turned down opportunities to become an officer because of his passion to document the military experience on camera. After briefly and unhappily being a clerk typist at a nuclear storage unit, he was assigned to the Department of the Army Special Photographic Office.
Durrance served with DASPO in the Pacific from 1967 to 1968. Like all DASPO photographers and cinema photographers, Durrance experienced a wider picture of war than someone staying in a single unit did. They photographed in all four corps tactical zones, from the DMZ  [demilitarized zone] between South and North  Vietnam to the Mekong Delta in the south. He spent time with several different units at various locations. He went to Vietnam twice, first in the fall of 1967 and then in the early months of 1968, witnessing the Tet Offensive from Da Nang. Durrance also spent time in Korea and Thailand.
Shortly after being honorably discharged from the Army, Durrance went on assignment for National Geographic, hiking the mountains of Romania, and stayed with the magazine for seven-and-a-half years, photographing all over the world. After the Geographic, Durrance went into commercial photography and was named by his peers as their Advertising Photographer of the Year. After leaving advertising, Durrance and his wife spent three years traveling around the US, photographing national parks.
It wasn't until the late 1980s that enough time had passed for Durrance to pull out his wartime photographs. The public resurgence of awareness about the Vietnam War and the lack of his photos being used as for their purpose by the federal government, spurred Durrance to bring his own photographs together, which was a cathartic and rewarding experience that resulted in his lauded 1988 photographic journal "Where War Lives." 
That book and those photographs led Durrance to travel the world once again, but now as a public speaker, committed to educating others about war and about the strength of photography. Durrance believes the visceral, symbolic nature of good photos offer those experiencing them a richer understanding of the moment. He thus and  works with people on how they can use photographs to better tell their stories.
Durrance and a few other photographers are featured in the Citizen Soldier program: Capturing the Faces of War: DASPO photographers in Vietnam. His work can also be seen in the  web exhibit: Faces of War. It also contains an audio excerpt from his oral history.