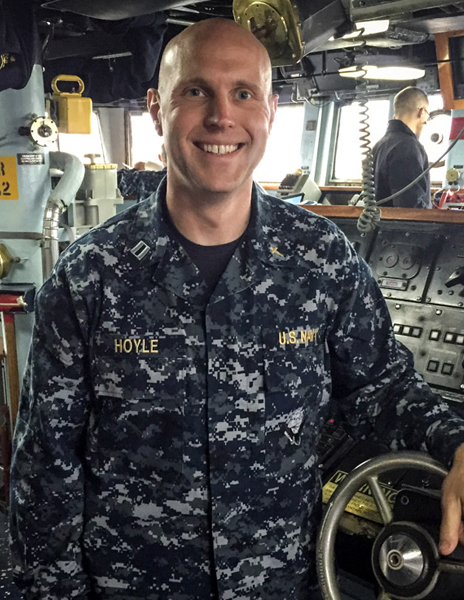 Record date:
Lieutenant Andrew Hoyle, US Navy Chaplain Corps
Chaplain Andrew Hoyle's innate compassion and morality made him a natural for the ministry both in civilian and in military life. Fittingly, he become the beneficiary of those whom he helped when he was ill. In remission now, that experience has only deepened his understanding of those whom he is serving.  In Chicago, to compete for the 2017 Warrior Games, he also speaks enthusiastically about Wounded Warrior Adaptive Athletics program.
Hoyle was born and raised in Fort Mill, South Carolina. He attended Ambassador Baptist College, Lattimore, North Carolina and received his Master of Divinity from Tabernacle Baptist Seminary, Virginia Beach, Virginia. He is a licensed and ordained independent Baptist minister. The Foundations Baptist Fellowship International has endorsed Chaplain Hoyle for military chaplaincy.
Before joining the Navy, he was an assistant pastor at Tabernacle Baptist Church in Virginia Beach, Virginia. While there he spent much of his time ministering to sailors and their families, compelling him to join the Navy as a chaplain in 2013. After joining the Navy and attending Officer Development School in Newport, RI, he was assigned to the USS Leyte Gulf CG-55 from June 2014 to January 2015 with the ship in support of Operation Active Endeavor, NATO's Standing NATO Maritime Group Two counter-piracy operation in the Mediterranean. He was then assigned to Destroyer Squadron 22 from 2015 to 2016. He deployed with USS Carney DDG-64. He is currently assigned to the USS Gonzalez DDG-66. 
Prior to his illness, LT Hoyle was an avid runner. After his remission from cancer, he joined Team Navy through the Military Adaptive Sports Program. He participated in the running, cycling, and swimming events in the 2017 DOD Warrior Games in Chicago. In his biography for the Warrior Games, his quote, "Do the next right thing," was inspired by what he would like to leave behind as a legacy for his children. After his treatment, he said that it has become a family motto and a source of strength for the family.