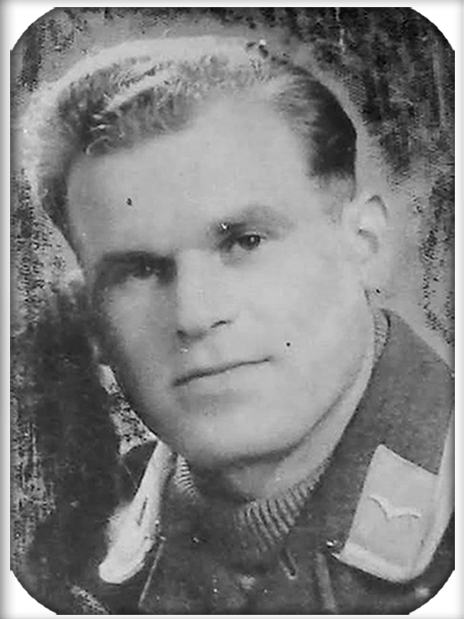 Record date:
John Fenzel, 1st Lieutenant, US Army
As a boy, John Fenzel, was in the unique situation of having ongoing contact with the German prisoners of war in the Hampshire, Illinois POW Camp, in 1944-45.  Yet his connection to the military was far from happenstance and through his life experience we are reminded how quickly the Cold War followed World War II.
John was born in Chicago in 1932 but due to health reasons, his father, John. Sr had to move to the country and bought a Chrysler-Plymouth dealership in a thriving agricultural community, Hampshire, Illinois, which the family also called home.
John Jr's entrepreneurial spirit emerged as a child where he would deliver newspapers, twice a day, including to the local tavern-restaurant. It was there that he learnt what would shortly transpire: Two-hundred and fifty German Afrika Korps prisoners, stationed at Camp Ellis, would be brought to Hampshire as a source of labor for the local canning company, J.B. Inderiddeian Co. The camp was constructed, in regulation with the Geneva Convention, surrounded by a ten-foot-high barbed wire fence.
Newspaper deliveries brought John into the prison camp, twice daily, and quickly, his role deepened. Prisoner, Hans Finkle, a non-commissioned officer and PX manager, assigned John the job of censor - cutting out unsavory references from the papers.  He then asked the twelve-year old to procure craft supplies – so that the POWs, many of whom were mechanics and wood carvers, would be occupied. He would pay John through luxuries that the Americans were missing such as chocolate bars and tobacco products yet were available to the prisoners. These goods were then sold profitably at Mr. Fenzel Sr's car dealership. Hans, who held a master's degree in English Literature, also decided to tutor John when he realized that the youngster's composition was in need of improvement!
Through other contact with POWs – John and two other young boys worked with them on the farms in the early mornings doing aerial crop dusting during the summers, for example – John received an education, ranging from learning how to play pinochle, to prescient discussions on the global threat of communism, which, would come into play later in John's life.
For high school, the teenage John enrolled in JROTC at the Marmion Military Academy, a Catholic high school, in Aurora. This was followed by his studies at the John Hopkins University where he participated in the ROTC and played football and lacrosse.
Mr. Fenzel was affected by the capture or killing of his college buddies during the Korean War so he and few other ROTC volunteered to be activated and commissioned in the event that the Korean Armistice agreement, signed on July 27, 1953, to end hostilities of the Korean War, would not hold. Since it did hold, the group was sent, upon graduation, to a Basic Infantry Officer Leading Course in Fort Benning, Georgia.
John was then deployed to Germany in 1954, being part of the military's objectives to prevent encroachments from the Russian military zone, in Germany, into the American military zone, there.
In Germany, Mr. Fenzel was assigned to what others might have seen to be an ideal job: the assistant officer (2nd Lieutenant) at the Athletics & Recreation Office of the 22nd Infantry Regiment of the 4th Division.  Yet when confronted with a situation of a senior officer beating up on his wife, John successfully intervened, and chose to be assigned to a line company: C Company, 1st Battalion, 22nd Infantry Division where he became a weapons platoon leader. Later on, he was a heavy weapons platoon leader with D company, 1st Battalion, 22nd Infantry.
John never shied away from doing the right thing be it confronting his company's captain's antisemitism or providing first aid to children involved in a car crash on the Autobahn against the orders of General Anthony McAuliffe prohibiting the military to intervene in civilian accidents.
Although not his ambition, Mr. Fenzel's athleticism played a part in his military career. Once again, Col. Max Schenider assigned him to coach and play football for the 22nd. After the football season, the battalion commander, Major McMahon, who opposed the military devoting time to organized sports, assigned Fenzel to learn and then teach skiing as well as winter warfare to the 1st Battalion at Bad Tolz and Wildflecken.
Fenzl completed his service by successfully leading the 1st Battalion Motor Pool from the poorest to the best, in the 4th Division.
After his discharge, Mr. Fenzel ultimately made a successful career in sales with the Dodge division of Chrysler and then joined his father back in Hampshire, at the Chrysler-Plymouth store. During the above time, John found the love of his life, Muriel, who me met while skiing in Sun Valley, Idaho and they were married in April 1960.
With the fall of the Berlin Wall, John sought to reconnect with his beloved mentor, Hans, who had been living in East Berlin, but sadly, Hans had died six months prior to Fenzel's visit. He did connect with the daughter of Ludwig Kafka, a prisoner who had organized a woodworking business in the camp, when he and his wife visited Vienna in 2006. John also learnt from her that when her father returned home to Vienna, his home was in the Russian zone, and so he was imprisoned for over twelve months as a slave laborer.
The Fenzel family commitment to service can be seen by the fact that John Junior's three sons studied at Marmion Academy and served in the armed forces. Son, Michael was recently promoted to Major General in the US Army while eldest son, John II, retired as a full colonel. The daughter does have the best business head on her shoulders.
John's commitment, congeniality, and discipline can be seen in his message to the young, "Ours is a great country, love serve and pray for it."