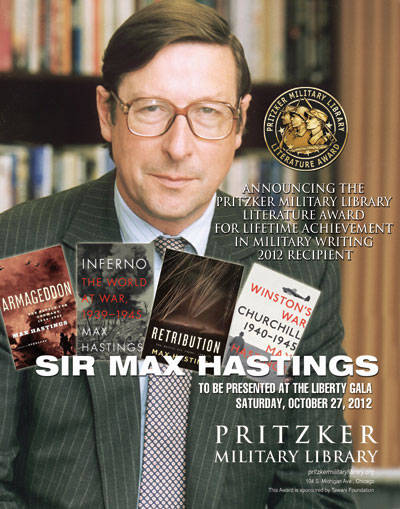 Max Hastings
British Historian Sir Max Hastings was named the recipient of the 2012 Pritzker Military Library Literature Award for Lifetime Achievement in Military Writing.
The $100,000 honorarium, citation and medallion, sponsored by the Chicago-based Tawani Foundation, was presented at the Library's annual Liberty Gala on October 27, 2012. 
The Pritzker Military Library Literature Award recognizes a living author for a body of work that has profoundly enriched the public understanding of American military history. A national panel of writers and historians – including previous recipients James M. McPherson, Allan R. Millett, Gerhard L. Weinberg, Rick Atkinson, and Carlo D'Este – reviewed and recommended candidates for final selection by the Tawani Foundation Executive Council.
Hastings is hailed as an accomplished journalist, writer, historian and editor. He is the author of 23 books, the most recent of which include Inferno: The World at War, 1939-1945, Finest Years: Churchill as Warlord 1940-45, Armageddon: The Battle for Germany 1944-45 and Nemesis: The Battle for Japan 1944-45. Hastings has reported on eleven conflicts, including Vietnam and the 1982 South Atlantic war. He was the Editor and later Editor in Chief, of the Daily Telegraph for 9 years and of the Evening Standard for 4 years.
He has received numerous awards, both for his books and journalism, including the Somerset Maugham Prize for Bomber Command: The Myths and Reality of the Strategic Bombing Offensive, 1939-1945 and Journalist of the Year and Reporter of the Year in the 1982 British Press Awards, and Editor of the Year in 1988. He received the Westminster Medal of the Rusi for his lifetime contribution to military literature in 2008 and the Edgar Wallace Trophy of the London press club in 2009. Today Hastings continues to write for the Daily Mail and Financial Times and reviews books for the Sunday Times and The New York Review of Books.