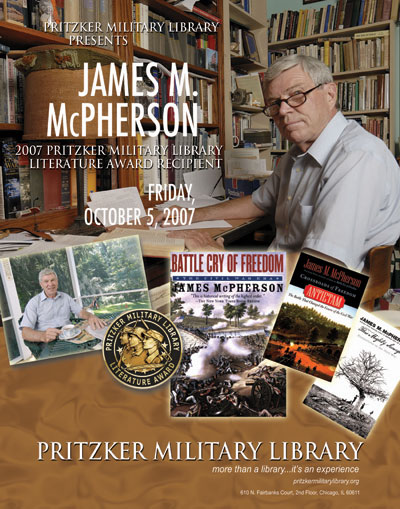 James M. McPherson
James M. McPherson received the first-ever Pritzker Literature Award for Lifetime Achievement in Military Writing.
The $100,000 honorarium, citation and medallion, sponsored by the Chicago-based Tawani Foundation, was presented at the Library's Liberty Gala on October 6, 2007 at Chicago's Drake Hotel. 
The Pritzker Literature Award recognizes a single living author for a body of work dedicated to enriching the understanding of American military history including military affairs. The recipient's contributions may be academic, non-fiction, fiction or a combination of any of the three and their work should embody the values of the Pritzker Military Museum & Library. 
James McPherson is the George Henry Davis '86 Professor of History Emeritus at Princeton University. He has published numerous volumes on the Civil War, including Lincoln and the Second American Revolution, Drawn with the Sword: Reflections on the American Civil War and For Cause and Comrades: Why Men Fought in the Civil War, which won the prestigious Lincoln Prize in 1998. He was awarded a Pulitzer Prize for his single-volume treatment of the Civil War, Battle Cry of Freedom: The Civil War Era.