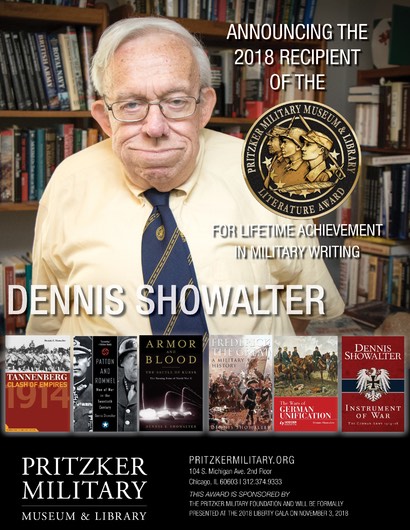 Dennis Showalter
Accomplished military historian and respected professor Dennis Showalter is the recipient of the 2018 Pritzker Military Museum & Library Award for Lifetime Achievement in Military Writing.
Author of more than 16 major publications, including Tannenberg: Clash of Empires, Patton and Rommel: Men of War in the 20th Century, Armor and Blood: Kursk, 1943, Frederick the Great: A Military History, The Wars of German Unification, and Instrument of War: The German Army 1914-18, Dennis Showalter has gained recognition for his research demonstrating the interrelationship between the military and civil society. 
"It's a great honor to accept the 2018 Pritzker Literature Award. For the historical profession, it is a combination of an Oscar and a Pulitzer and I think it's a good deal more fun than either," said Showalter. "No one who wins this award does it alone. We stand on the shoulders of the men and women of our profession, our colleagues, and above all the students…The importance of teaching history at military academies and advanced institutions is that the tendency of these institutions is to go towards engineering, technical subjects, and to be focused on specific strategic problems. Military history itself is as vital to the military education institutions as oxygen."
-Dennis Showalter on receiving the Pritzker Literature Award
Candidates for the Pritzker Literature Award are nominated each year by a committee of historians, authors, and executives, and the final selection is made by Museum & Library Founder Jennifer N. Pritzker. The 2018 Screening Committee is chaired by John W. Rowe and includes past Literature Award recipients Allan Millett, Gerhard Weinberg, Rick Atkinson, Carlo D'Este, Sir Max Hastings, Tim O'Brien, Antony Beevor, David Hackett Fischer, Hew Strachan and Peter Paret; Colby Award Winner Karl Marlantes; President and CEO of the Chicago History Museum Gary Johnson; and ex-officio member and former Museum & Library President & CEO Kenneth Clarke. 
DENNIS SHOWALTER  is a professor of history at Colorado College who specializes in German military history. He was president of the American Society for Military History from 1997 to 2001. In addition, Showalter is an advising fellow of the Barsanti Military History Center at the University of North Texas. Showalter has previously taught at the United States Air Force Academy, the United States Military Academy, and the Marine Corps University. He has written extensively on the wars of Frederick the Great, the German Wars of Unification, World War I, and World War II. Tannenberg won the American Historical Association's Paul M. Birdsall Prize for best new book of 1992.