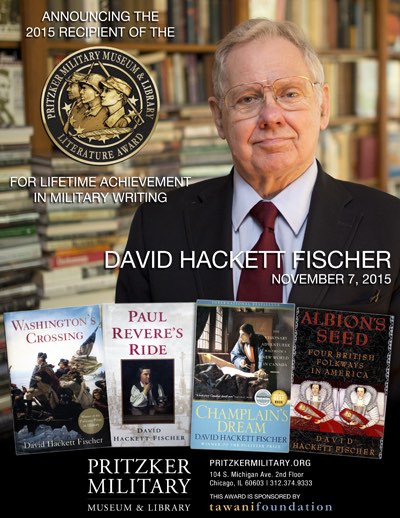 David Hackett Fischer
Pulitzer Prize-winning historian, best-selling author, and Brandeis University professor David Hackett Fischer is the recipient of the 2015 Pritzker Military Museum & Library Literature Award for Lifetime Achievement in Military Writing.
A world-class educator and author who considers himself "primarily a storyteller and old-fashioned history teacher," Fischer will formally accept the award November 7 at the Museum & Library's 2015 Liberty Gala, where he will be honored for an impressive body of work dedicated to enriching the understanding of military history. Sponsored by Tawani Foundation, the Pritzker Literature Award includes a citation, medallion, and $100,000 honorarium. 
Author of 15 major publications on topics ranging from the American Revolution to the logic of historical thought, Fischer received the American Enterprise Institute's Irving Kristol Award in 2006 for his "pivotal role in reviving popular and academic interest in American history and its lessons for the present." 
Among his notable works are bestsellers and award-winners like Washington's Crossing, a National Book Award finalist and 2005 Pulitzer Prize winner for history; Paul Revere's Ride, a 1996 Boston Globe Top 10 Book of the Year; Champlain's Dream, an internationally acclaimed biography published in English and French; and Albion's Seed: Four British Folkways in America, a groundbreaking study of the roots of essential American traits—a second volume of which is now in progress.
Fischer believes that history begins as inquiry, and he seeks to learn how people lead in open societies and how we engage our values through our actions.  Thus, in the last 40 years, writing about the military and the people who serve has touched or informed nearly everything he has written.
When I was young, I had an aunt who was blind and in her 90s. She once told a story to my cousins and my brother and me about a July day when, from her home on a farm north of Baltimore, there was a sound like the wind in the trees—but when she went outside, there was no wind. She looked up the road and saw a line of wagons as far as she could see. They were the wounded from Gettysburg.  —David Hackett Fischer on becoming a historian and writing about military history
Candidates for the Pritzker Literature Award are nominated each year by a committee of historians, authors, and executives, and the final selection is made by Museum & Library Founder Jennifer N. Pritzker. The 2015 Screening Committee is chaired by John W. Rowe and includes past Literature Award recipients Rick Atkinson, Carlo D'Este, Sir Max Hastings, Tim O'Brien, and Antony Beevor; Colby Award Winner Karl Marlantes; and ex-officio members Kenneth Clarke and Brad Ballast.
DAVID HACKETT FISCHER, PhD, was born and raised in Baltimore, Maryland, where his father was superintendent of schools. A graduate of Princeton University (A.B., 1958) and the Johns Hopkins University (Ph.D., 1962), Fischer is University Professor and Earl Warren Professor of History at Brandeis University in Waltham, Massachusetts, where he has served on the faculty for more than 50 years. A recipient of numerous teaching awards over his long and distinguished career—including the 1990 Carnegie Prize as Massachusetts Professor of the Year and the Louis Dembitz Brandeis Prize for Excellence in Teaching—Fischer has held visiting professorships at Harvard University, The University of Oxford, the University of Washington, and several institutions in New Zealand. He and his wife, Judith Hummel Fischer, have two children and two grandchildren.