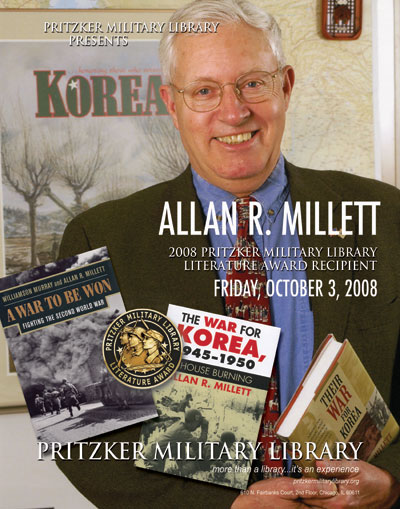 Allan R. Millett
Allan R. Millett received the 2008 Pritzker Military Library Literature Award for Lifetime Achievement in Military Writing.
The $100,000 honorarium, citation and medallion, sponsored by the Chicago-based Tawani Foundation, was presented at the Library's annual Liberty Gala on October 4, 2008 at Chicago's Drake Hotel.
The Director of the Eisenhower Center for American Studies and Ambrose Professor of History, University of New Orleans and the Maj. Gen. Raymond E. Mason, Jr. Professor Emeritus of Military History, The Ohio State University, Millett is a specialist in the history of America's military policy, twentieth century wars, and military institutions.  
He is author of many books including Semper Fidelis: The History of the United States Marine Corps; The Politics of Intervention: The Military Occupation of Cuba, 1906-1909; The General: Robert L. Bullard and Officership in the United States Army; and In Many a Strife: General Gerald C. Thomas and the U.S. Marine Corps. He is the co-author of For the Common Defense and A War to Be Won: Fighting the Second World War.
In the past decade, Millett also has become a specialist of international stature on the history of the Korean War. He began his work on the war as a Fulbright Distinguished Professor, Korean National Defense University, in 1991, and a Fellow of the Korea Foundation, 1996.  In this area of scholarship, Millett has written Their War for Korea (2000) and A House Burning: The War for Korea (2005).  Four of his books are on the required reading list for officers of the U.S. Armed Services and he has contributed original essays to fifteen books on the Korean War, World War II, American historiography, foreign and defense policy and military history.  Millett also has written more than thirty articles for such publications as International Security, The Americas, Armed Forces and Society, Strategic Review, Journal of Strategic Studies, and Military History Quarterly.  
Millett is a colonel in the U.S. Marine Corps Reserve.  His military experience included twelve years of reserve service in infantry units, including command of an infantry battalion, for which he was awarded the Legion of Merit in 1989.