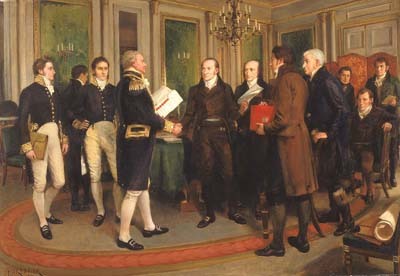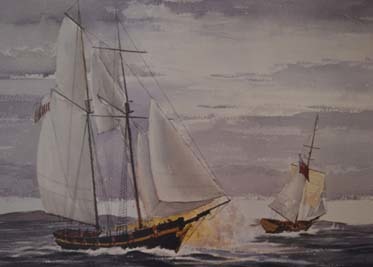 Aug 30, 2012 - Nov 10, 2012
The War of 1812 Exhibits
The Pritzker Military Museum & Library was honored to host two extraordinary exhibits on the War of 1812.
In 1812, the United States Congress issued their first ever declaration of war. Angry over a number of perceived wrongs, many politicians in the United States believed state militias could easily seize Canada and force the United Kingdom to negotiate. The war, however, dragged on until 1815. Although the Treaty of Ghent ensured that neither side lost territory, the war profoundly affected the United States, Canada, and Native Americans.
War of 1812: A Nation Forged by War
Located on the first level of the Pritzker Military Museum & Library, this exhibit was on loan from the National Museum of the United States Navy.
The exhibit featured the War of 1812 as it took place on the seas. It focused in particular on the contribution of both the Navy and the Marines to the war effort. It was divided into three sections, all of which featured photographs of artifacts, ships, official documents, quotes, and more.
1812: One War, Four Perspectives
Located in the Museum & Library's second level gallery, this exhibit was on loan from the Canadian Consulate in Chicago. The Canadian War Museum created this traveling exhibit to complement their in-house exhibit opening January 6, 2013. This traveling exhibit maked its United States debut at the Library.
Written in both French and English, this exhibit objectively told the story of the war from the perspectives of the four participants involved: the Americans, British, Canadians and Native Americans.