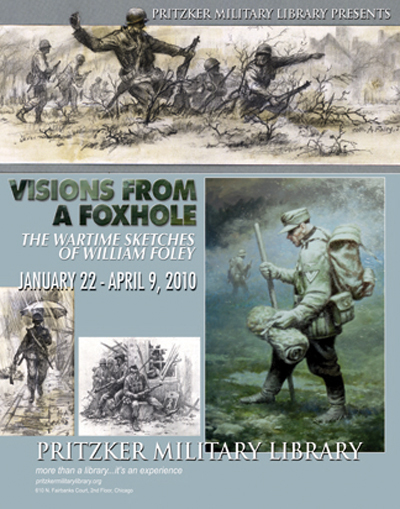 Jan 22, 2010 - Apr 09, 2010
Visions From a Foxhole: The Wartime Sketches of William Foley
This exhibit included more than 40 works in pencil, ink, and oil. Many came from the sketchbook Foley carried as a young rifleman during the war; others showed the reflections of a veteran over the decades after his service.
William A. Foley, Jr. served in Gen. George S. Patton's "Ghost Corps", joining the 94th Infantry Division as an eighteen year old in January 1945. The fall of the Third Reich was nearly within grasp, and Foley would see combat immediately. The 94th was assigned to break through the "Siegfried Line" in frigid northwest Europe, which was the key to Germany's western defense. Over several weeks of nearly continuous combat against the vaunted 11th Panzer Division, the 94th pushed forward – over the Saar River, into the hills, and finally across the Rhine to Düsseldorf.
Visions from a Foxhole evoked the scarred winter landscape of that campaign, from shattered cities and blackened forests to the trenches where Foley and his fellow soldiers dug in for battle. There were also a number of personal vignettes of life on the front lines, as soldiers catch a chicken for dinner, take prisoners, explore a soap factory, and stand watch by a wrecked farmhouse. For a time, though his memories of the war were vivid, Foley could only recreate them in black and white.
"Attending art school in the late '40s, everything I painted came out in cold gray-blue or black mud," Foley said. But during a career as a commercial illustrator, as he saw mill workers producing steel to build up civilization – rather than tear it apart – he began to make the emotional transformation from war to peace. "In time, my eyes saw white-hot ingots and fire transformed into yellows and reds, while the soot-black workplace took on all the marvelous and exciting hues of blue, green, amber, and purple: I was healing."
In 2003, Foley completed a commemorative mural for the 94th Infantry Division at the state capitol of Massachusetts. His work has also been exhibited at the National World War II Museum in New Orleans, along with other museums and galleries. Now retired, he lives in Dallas.