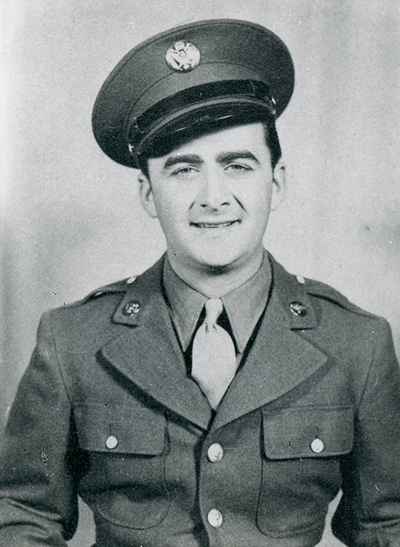 Chester J. (Klopocinski) Collins,
Corporal
Chester Joseph Klopocinski was born in Unieck, Poland on February 27, 1922. At the age of 1, he came to America with his family. They initially lived with his mother's sisters in Brooklyn, New York and eventually settled in Detroit, Michigan.
Being an American immigrant from Poland—the epicenter of the start of WW2—he often reflected, "I always felt that I was glad that I was in the United States because I wouldn't be alive today."
With that very personal sense of American patriotism, after the attack on Pearl Harbor, he enlisted in the U.S. Army on January 1, 1943, turning 21 years old on Feb 27th of that year. He was inducted at Fort Custer in Michigan, did basic training in Clearwater/ St. Petersburg FL, and attended Technical School in South Dakota, New York and Wisconsin, specializing in Radio Theory and Electronics. On September 13, 1943, he graduated as a Radio Technician at the Army Air Forces Technical School in Tomah, Wisconsin, receiving a diploma for completion of the course "Control Net System".
In mid 1944, Corporal Chester J. Klopocinski was sent to the Pacific theater as a member of the 5th Army Air Corp, 7th Fighter Squadron, 49th Fighter Group. They headed for New Guinea along with 5000 U.S. soldiers aboard a WW1 era German luxury liner that was converted to a troop ship, zig-zagging the entire way to avoid submarines.
Initially stationed in Biak, New Guinea, his first job was to help build runways out of interlocking steel matting so their 49th Fighter Group planes and the Navy planes could land. This would be the first order of business as the 49th island-hopped all the way to Japan.
"I was a radio mechanic. We were servicing the radios in airplanes. I replaced the P38 radios (Signal Corps Radio 522). That was my job. We used to get attacked by night fighters. They would strafe and bomb. They would attack at night so our anti-aircraft couldn't shoot them down... We would dive into the nearest hole we could. Everyone would dive in at the same time on top of you."
From there, he and the 49th boarded a Liberty Ship and joined a convoy of about 200 ships for the invasion of the Philippines at Leyte Gulf; the biggest naval battle in WW2 and where General MacArthur fulfilled his promise "I shall return." The convoy zig-zagged to avoid submarines below, but after their ship was torpedoed, they listed (tilted to one side) the rest of the way to Leyte. He witnessed a kamikaze hit an ammunition ship. "The ship was right next to us and it blew up in a blink of an eye."  The 49th was awarded a Distinguished Unit Citation for operations against the Japanese on Leyte.
The 49th continued to island hop to Lingayen, Luzon, and then to Motobu, Okinawa where they got radio reports of two great bombs dropped on Japan.
The 49th became the first Army Air Force combat unit based in Japan. "Perhaps we had received some sort of honor; we were reputed to be MacArthur's favorite fighter group."  author James P. Gallagher wrote in his book With the Fifth Army Air Force in which Chester is pictured next to the author along with the 7th FS Communications Unit in Luzon.
He returned to San Francisco on a Liberty ship. "I rested for about a year or more." Chet said, happy to be reunited with his sister and single mother Mary who worked as a riveter at a Defense Factory in Detroit, Michigan during the war.
Corporal Chester J. Klopocinski received an honorable discharge on December 31 1945. He received the following decorations:
Victory Medal American Theater Ribbon
Asiatic-Pacific Theater Ribbon with 4 Bronze Battle Stars
Philippine Liberation Ribbon
2 Overseas Service Bars
Good Conduct Medal
After the war, Chester Joseph Klopocinski changed his name to Chester Joseph Collins to avoid discrimination in finding employment. He worked for the City of Detroit, where he was hired as "a fellow Irishman". There he was able to make a happy life with his wife of 68 years–Joyce–raising a family of five. Chester died on June 25, 2019 at the age of 97. He is memorialized at the Great Lakes National Cemetery in Holly, Michigan. His urn reads (at his request) "The Polish kid with the Irish name" and his Army Air Force cap is at its side.
Book dedicated: With the Fifth Army Air Force: Photos from the Pacific Theater by James P. Gallagher