Colonel (IL) Jennifer N. Pritzker, IL ARNG (Retired),
Founder & Chair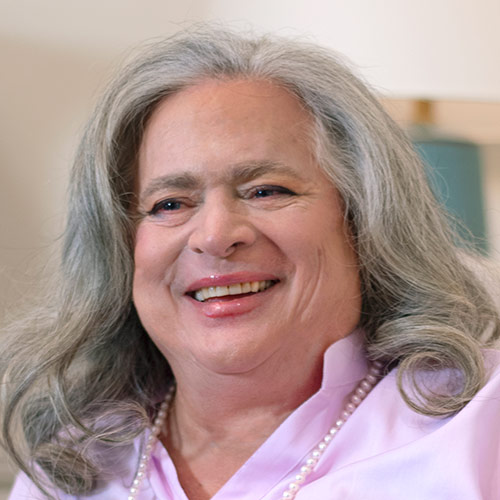 Colonel (IL) Jennifer N. Pritzker, IL ARNG (Retired) is currently President and Chief Executive Officer of Tawani Enterprises, Inc., President of the Tawani Foundation and Pritzker Military Foundation, and Founder and Chair of the Pritzker Military Museum & Library.
Tawani Enterprises Inc., a private investment company which she organized in 1994, is involved in limited real estate partnerships, portfolio management and venture capitalization. Highlights include total restoration of the historic Monroe Building and the Emil Bach House in Chicago and investment in Squadron Capital LLC. 
The Tawani Foundation is a private foundation created by Pritzker in 1995 with an emphasis on promoting the ideal of the "Citizen Soldier." It supports the preservation of military heritage, conservation and preservation of historical sites, health and wellness, and landmark gifts and grants. The Foundation also has extensively supported the awards and programs of ROTC and JROTC throughout the United States.
Dedicated on October 23, 2003 as the Pritzker Military Library, the Pritzker Military Museum & Library evolved from Jennifer's personal and family holdings of books and artifacts.  The continuing mission of the Museum & Library is to acquire and maintain an accessible collection of materials and to increase the public's understanding of military history, military affairs and national security. The Museum & Library provides a forum for the study and exploration of our military - past, present, and future - with a specific focus on the stories, sacrifices, and values of the Citizen Soldier.
Retired in March, 2001 as a Lieutenant Colonel, Pritzker's military career began with enlistment in the United States Army in 1974 and subsequent assignment to 1st Squadron 17th Cavalry Regiment (Air) 82nd Airborne Division at Fort Bragg, North Carolina while serving in the ranks of Private through Sergeant. Following commissioning as a 2nd lieutenant of infantry in 1979, Pritzker served on active duty with the 1st Battalion, 503rd Infantry Regiment, 101st Airborne Division at Ft. Campbell, Kentucky and VII Corps at Kelly Barracks, Germany until release from active duty in 1985. Subsequent assignments included 3 tours of duty in the Individual Ready Reserve for 56 days in 1985 and service in the Illinois Army National Guard between 1986 and 2001. Assignments in the National Guard included Commander, C Company, 1st Battalion 131st Infantry Regiment, Battalion S2 (Intelligence Officer), Assistant Brigade Intelligence Officer and Chemical Officer, 33rd Separate Infantry Brigade, Chicago, Illinois. Historian State Area Command, STARC, Springfield, Illinois; Host Area Support Officer, 33rd Area Support Group, Chicago, Illinois; and Commander, 38th Rear Operation Center, 38th Infantry Division, Chicago, Illinois.
Her awards include: Meritorious Service Medal, Army Commendation Medal with Oak Leaf Cluster, Army Achievement Medal with Oak Leaf Cluster, Army Good Conduct Service Medal, Army Reserve Components Achievement Medal with 3 Oak Leaf Clusters, National Defense Service Medal with Star, Antarctic Service Medal, Outstanding Military Volunteer Service Medal, Armed Forces Reserve Medal with 20 year Device, NCO Professional Development Ribbon, Army Service Ribbon, Army Reserve Component Overseas Training Ribbon, State of Louisiana Legion of Merit, State of Illinois Long and Honorable Service Medal with Oak Leaf Cluster, State of Illinois Military Attendance Ribbon with Numeral 6, the U.S. Army Parachute Badge and Air Assault Badge, and Parachute Badges of Israel, Russia, Canada, Holland, United Kingdom, and Poland. Upon retirement from the Illinois National Guard, Pritzker was promoted to the Honorary Rank of Colonel in the Illinois Army National Guard in March 2001.
In addition to business activities and a military career, Jennifer is extensively involved in philanthropic work, currently serving on the boards of the USO of Illinois, the National Strategy Forum, the Pritzker Military Museum & Library, the Tawani Foundation, the Pritzker Military Foundation and the Leadership Council for the Program in Human Sexuality Medical School of the University of Minnesota. She is also Trustee Emerita of Norwich University and a former director of the Marine Corps Scholarship Foundation, the Illinois National Guard and Militia Historical Society, and the Planetary Studies Foundation. She participated in four expeditions to Antarctica and the South Pole between 2000 and 2008 − expeditions which included astronauts Dr. Owen Garriot and Captain James Lovell, and Dr. Birgit Sattler, the first Austrian female to visit the South Pole. Pritzker is the 2005 recipient of the City of Chicago's John A. Logan Patriot Award, an Honorary Doctorate of Military Science from Norwich University, and the 2012 Damen Award from Loyola University Chicago.
She is a graduate of Loyola University Chicago with a B.A. in History, as well as the U.S. Army's Infantry Officer Basic and Advance Courses, the Chemical Officer Advance Course, the Quartermaster Officer Advance Course, and Command and General Staff College. Her children are daughter Tal Hava Pritzker and sons Andrew and William.