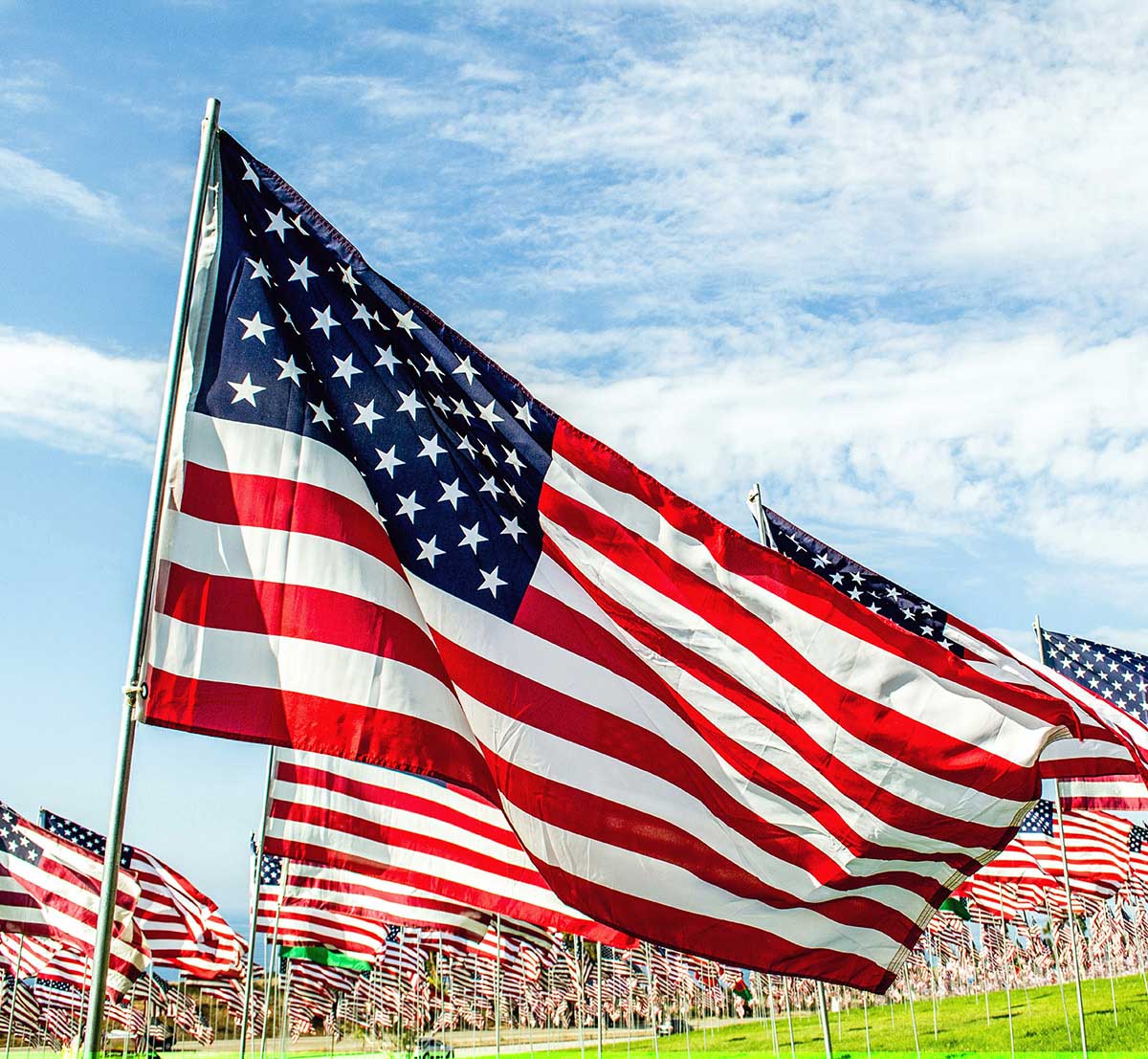 Memorial Day
As we honor Memorial Day, we are especially grateful that so many veterans and their families know it is our mission to preserve the stories of our Citizen Soldiers. Today, and all days, we commemorate their service and sacrifice.
Memorial Day History
Memorial Day, formerly Decoration Day, is celebrated on the fourth Monday in May honoring those who died while serving in the U.S. Armed Forces. It originated in the years following the Civil War and became an official federal holiday in 1971. Today, communities across the nation hold ceremonies to remember, honor, and commemorate the service and sacrifice of the fallen, a tradition which continues from 150 years ago to today.
Learn more about the history of Memorial Day and about commemorating Gold Star Families by viewing the videos below. Gold Star families are the immediate family members of service members who died in the line of duty. They are the spouses, parents, children, and siblings of fallen heroes. 
We hope you will visit the Pritzker Military Museum & Library during this weekend to learn more about our Citizen Soldiers
Visiting and supporting the Museum & Library is a great way to remember and learn what service members' contributions have been to our country. The Museum & Library is offering FREE ADMISSION on Saturday, May 28 , 10-4pm, in honor of Memorial Day. View our newest exhibit, Life Behind the Wire: Prisoners of War, a riveting look at never-before-seen collections from prisoners of war exposing the struggles, challenges, and triumphs of life in captivity
We're also offering 30% off all books, both online and in person, through the entire holiday weekend. 
Below are some ways you can get involved in your local communities:
Commemorate Their Service 
Honor and remember those in your life who served in the military with a Commemorate Their Service™ memorial or honorial.
For a memorial or honorial donation of $75 or greater, a dedicated entry for your service member will be created on the Commemorate Their Service Wall of Honor. Your entry will include a photo of your service member that you provide, a brief history of their life and service written by you, links to related materials in the Museum & Library's collections, and a dedicated book in the Museum & Library's circulating collection that will include your service member's name, dates of service and branch of the military.  
Take Part In A Memorial Day Tradition
Although this year, in light of the pandemic, there may be different guidelines for attending parades and public ceremonies, it can be a great way to show the importance of remembering. 
Moment of Remembrance
Set a reminder for 3 p.m. local time so you can take part in the National Moment of Remembrance. This observation, which formally began in the year 2000, calls Americans to voluntarily and informally take a moment of silence at 3 p.m. and reflect in their own way.
Wear A Red Poppy
On September 27, 1920, the American Legion designated the poppy as a way to memorialize the soldiers who fought and died during the war, and began a national program to distribute the flowers in 1924. National Poppy Day is honored the Friday before Memorial Day. Commemorating those in your lives that have served is a beautiful and meaningful way to remember. We offer red poppy pins in the Museum & Library's Gift Shop to support this show of support.
Decorate A Grave with Flowers
In the U.S., there are 134 national cemeteries as well as dozens of state cemeteries where veterans and soldiers are buried. Many of these cemeteries have veterans and soldiers from wars that took place long in the past. Although these cemeteries are well-maintained, many of the older graves haven't seen decoration in years. Get your family together and "adopt" an older grave by laying flowers or a wreath around it. Visiting a veteran's cemetery also provides a great opportunity to give your kids a history lesson about past wars.
Honor the Dead By Supporting Living Veterans
Although Memorial Day is when we honor the fallen, you don't have to wait until Veterans Day in November to show your support of living veterans. Many veterans are in need of assistance, whether it's help accessing healthcare or simply the need for companionship. There are countless ways to reach out and make a difference for veterans on Memorial Day.