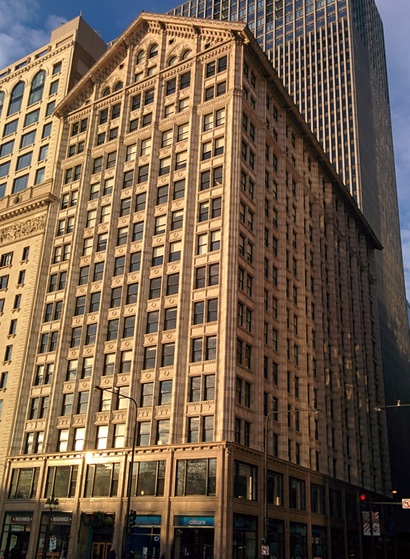 The Historic Monroe Building
Designed by Martin Roche of Holabird and Roche, this 1912 Romanesque-inspired 16-story, steel frame building is clad in a combination of terracotta and granite. 
It was designed to harmonize with the firm's earlier Neo Gothic University Club, located to the north across Monroe Street. The Monroe Building's banded multi-toned terra cotta exterior, with its decorative pilasters and overhangs, enhance the building's rich façade. The gabled roof and dormers of green Spanish tiles complete the Monroe Building's unique exterior.
The interior's vaulted lobby is graced by one of the largest commercial installations of Rookwood tile in the country. A sensitive restoration by the building's owner, J&J Arnaco, includes the restoration of the exterior terra cotta façade and Ludowici tile roof. Decorative cast iron entrances on Michigan Avenue and Monroe Street have been replicated from original photographs.
The restoration of the building's interiors includes the restoration and recreation of original design elements including Rookwood tile floors, walls and vaults, decorative iron elevator grilles, doors and hardware, and lighting fixtures. The restoration of historic elements was informed by surviving original construction documents, early photographs, and much extant historic material retrieved from the site.
Purchase the Monroe Building book.
The Monroe Building now houses the Pritzker Military Museum & Library on floors two through four.
Dedicated to the story of the Citizen Soldier in American history, the Museum & Library is open to the public with a collection of books and gallery exhibits, along with live events in a two-story lecture hall and broadcast center.
"We were charged with capturing the essence of the Library's mission in the design of the space and display of the special artifacts and materials that are part of this one-of-a-kind collection," said Marc Adelman, principal with tvsdesign, which designed the three floors on which the Museum & Library resides. "The traditional design aesthetic we have created is in keeping with the historic building, including coffered ceilings, intricately designed wood paneling, and extensive wood molding and millwork."
The fourth floor of the building includes two spacious conference rooms that are ideal for executive meetings of any size. Both rooms are fully-equipped with state-of-the-art teleconferencing and multimedia projection capabilities. Rental inquiries are welcome for these and other library facilities.