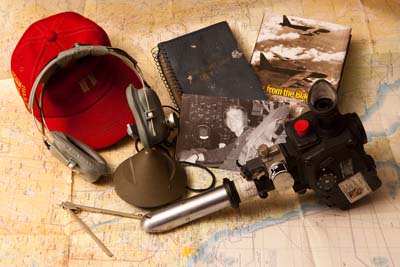 Robert O. Harder Collection
Donated by former U.S. Air Force navigator and Vietnam War veteran Robert Harder in 2010, the collection features various maps and documents, flight crew checklists, flight manuals, navigator wings, a periscopic sextant, a headset worn by Harder during his 145 missions, a shipping cap from a Mark 82 five-hundred pound bomb, and a signed copy of Harder's book, Flying from the Black Hole.
While studying geography and political science at the University of Minnesota in the 1960s, Robert Harder began his military career as a cadet in U.S. Air Force Reserve Officer Training Corps. Upon graduating in 1966, Harder received a commission into the United States Air Force as a second lieutenant. Although he had dreamed of becoming a military pilot, slight nearsightedness directed him toward navigator training and bombardier school. Harder was assigned to the 306th Bomb Wing located at McCoy Air Force Base in Orlando, Florida. He flew 145 Operation Arc Light combat missions during the Vietnam War as a navigator-bombardier in B-52 bombers.
The collection also includes personal papers related to his family, newspaper clippings, cartoons, and miscellaneous materials as well as photographs and a collection of leaflets dropped by the Japanese on Allied troops during World War II. The collection primarily focuses on Harder's years in service from 1966 to 1971, but some materials date to the present. The finding aid for for the archival collection can be viewed here.