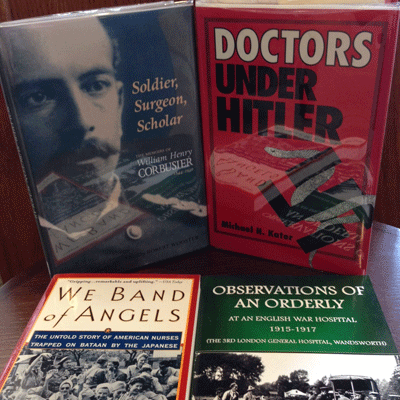 Dr. James Wengert Military Medical Collection
Dr. James Wengert (1934-2006) was a U.S. Navy Flight Surgeon from 1960 to 1967, serving on the aircraft carrier USS Randolph from 1962 to 1964.  He trained at the Nebraska Psychiatric Institute (67-70) and served at the Norfolk State Hospital, then taught and also served as a psychiatrist at the VA Hospital in Omaha from 1972 until his retirement in 1995. 
He authored three books on General Custer, the Frontier Army, and military medicine: A Frontier Army Christmas (Nebraska State Historical Society, 1996), Custer Despatches: The Words of the New York Herald Correspondents in the Little Big Horn Campaign of 1876 (MA/AH Pub., 1987), The Military Ambulance (University of Nebraska Medical Center, 1981).  He also authored a number of scholarly articles, including the posthumous article entitled "Henry Rinaldo Porter: A Surgeon's Account of Custer's Last Stand" which appeared in the Summer 2007 issue of The Journal of the West.  His collecting interests varied from the American West to military medicine.
His Books
This collection includes 302 books. The materials cover a remarkable range of topics, including early ambulances, Civil War and World War II nurses, the Indian Campaigns, and medical evacuations in Vietnam.  Search the collection.