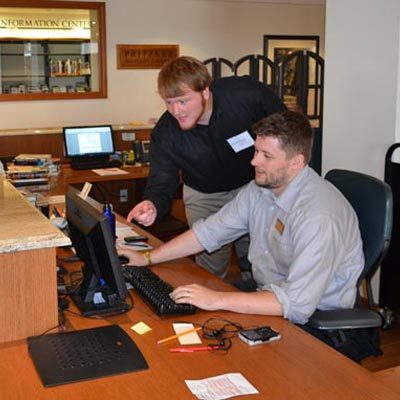 Volunteer, Student & Paid Internship Opportunities
The Pritzker Military Museum & Library seeks dedicated, reliable, and enthusiastic volunteers, interns, and employees who share a passion for preserving the story of the Citizen Soldier.
To apply, please send a resume and cover letter to internships@pritzkermilitary.org.
Available Internships
There are no current internship opportunities available.
---
Volunteers and Interns help in many areas of the Museum & Library:
Library
Volunteers will have the opportunity to get involved on the frontlines of the Museum & Library through duties including collection maintenance, patron assistance, project research, packing and un-packing books, updating our inventory, and more.
Special Collections and Digital Lab
The Special Collections and Digital Lab features a wide range of fascinating military artifacts, including uniforms, letters, medals, and photographs. Translation skills, educational experience, or previous experience in the field may be necessary for projects in this department. Projects with this department might require work at a remote facility on the north side. 
Oral History
Volunteers assisting in the Holt Oral History Program will have the opportunity to participate in many aspects of recording the oral histories of local veterans.  Duties for Volunteers include finding candidates, conducting research,  transcription work, and possibly even conducting oral history interviews. 
Programs
Help serve our guests and attend programs.