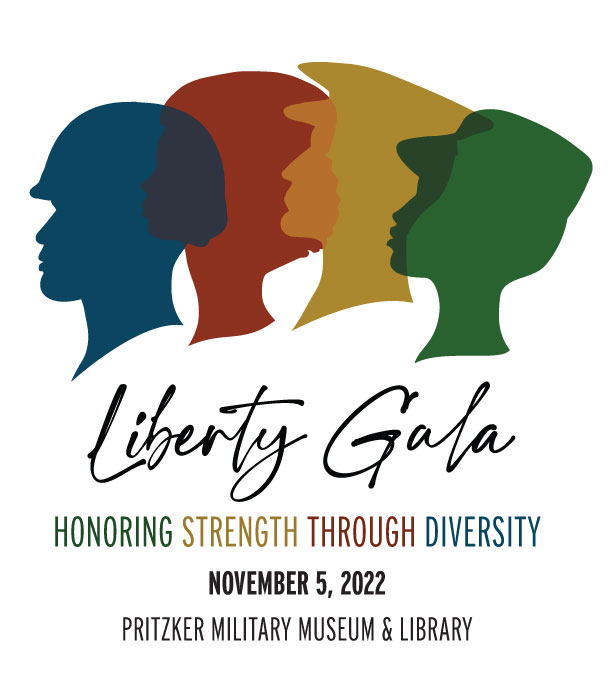 On November 5th, the Pritzker Military Museum & Library celebrated its 19th annual Liberty Gala with over 400 of our friends & supporters at the iconic Hilton Chicago. The theme of this year's gala was "Honoring Strength through Diversity" and celebrated the courageous stories of Citizen Soldier Award recipients: General Ann Dunwoody, USA (RET.), Colonel Jack Jacobs, USA (RET.), Brigadier General (MA) Enoch O.D. "Woody" Woodhouse II, USAF (RET.), JD. We were also humbled to have been joined by the Williams Family as they accepted our first post-humous Citizen Solider Award honoring the life and legacy of our dear friend, CWO4 Hershel "Woody" Williams, USMC (RET.).
The Presentation of Colors was done by the Loyola Rambler Battalion ROTC, our national anthem was performed by Lindemann Young Artist at the Metropolitan Opera, Ian Koziara. Following the Awards Ceremony, we were joined by guests for our after-party featuring the Segundo Ruiz Belvis Cultural Center's Latin Jazz Band.
Our new President, Dr. Krewasky A. Salter, Ph.D. announced that the Museum & Library has achieved "conditional" public charity status this year and as we work towards achieving full public charity status, the support from our community is more important than ever. With the help of our members, donors, and sponsors the Museum & Library raised nearly $800,000! These funds will allow us to continue our critical work preserving the legacies of our citizens and soldiers, and providing education on military history, military affairs, and national security.
We hope you will join us next year as we celebrate our 20th Anniversary!
‍
2022 Citizen Soldier Award Winners
After becoming the first woman to command a battalion in the 82nd Airborne Division in 1992, Dunwoody became Fort Bragg's first female general officer in 2000.

Learn More
One of the last surviving Tuskegee Airmen, his military service has earned him numerous awards, most notably the Congressional Gold Medal, the highest honor bestowed by the US Congress. 

Learn More
Medal of Honor and Purple Heart recipient, Jacobs served on the faculties of West Point and National War College and served as Vice Chair of the Medal of Honor Foundation.

Learn More
Hershel "Woody" Williams is the first posthumous Citizen Soldier Award recipient honored for his leadership and bravery on the battlefields in WWII and his tireless work on behalf of Gold Star Families.

Learn More

Co-Chair: Colonel (IL) Jennifer N. Pritzker, IL ARNG (Retired), Founder, Pritzker Military Museum & Library
Co-Chair: Laura Ricketts, Director, Chicago Cubs and Chairperson of the Board, Chicago Cubs Charities
‍
Bernice Billups, The Boeing Company
Janet & Craig Duchossois
Barry L. MacLean, MacLean-Fogg Company
Michelle Nakfoor, TAWANI Enterprises
MSgt Virginia A. Narsete, USAFR (Ret)
Bill and Penny Obenshain
Col. (Ret) David, Brenda, and Jeanette Pelizzon
Karen L. Pritzker
Mayari Pritzker
Mary F. Parthe, TAWANI Enterprises
Mr. & Mrs. Albert B. Ratner
Rob Sarazen, Goldman Sachs & Co
James Schenck, PenFed Credit Union
LTG Roger Schultz, USA (Ret), Army Historical Foundation
Steve Schwab, Elizabeth Dole Foundation
Marcin Szajda, BPEA Private Equity
Jonathan Victor, Wende Museum

Founder's Circle Sponsors
Mr. & Mrs. Albert B. Ratner
Freedom Sponsors
MSgt Virginia A. Narsete, USAFR (Ret) | Operation HerStory in Memory of Jim Narsete

Col. (Ret.) David, Brenda, and Jeanette Pelizzon

Raeanne & Robert Sarazen | Goldman Sachs & Co

Frederick & Catherine Waddell
Learn More About Our Honorees and Past Events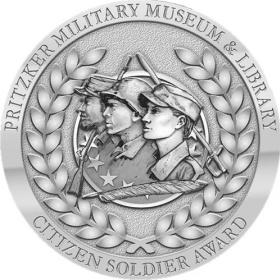 Citizen Soldier Award
The Citizen Soldier Award, established in 2020, is presented annually at the Liberty Gala.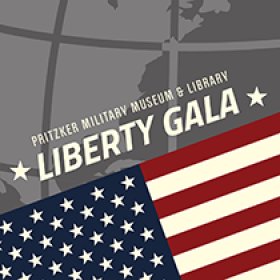 2021 Gala Recap
The 2021 Liberty Gala honored the achievements of the Pritzker Military Museum & Library and the service of Citizen Soldiers, particularly those who served during the Cold War. Watch now!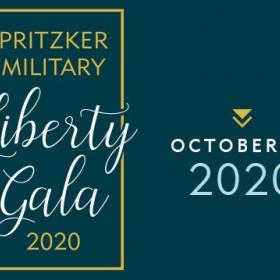 2020 Gala Recap
In 2020, due to the need for social distancing during the COVID-19 pandemic, we hosted our very first virtual Liberty Gala. This event was a mix of live and recorded content that highlighted not only the accomplishments in the past year, but also the importance of our mission. Watch now!