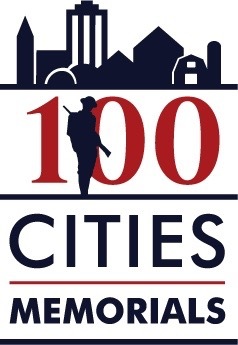 100 Cities/100 Memorials
A partnership between the Pritzker Military Museum & Library and the United States World War One Centennial Commission, with support from the American Legion and Veterans of Foreign Wars, 100 Cities/100 Memorials is a fund-matching program to restore World War I memorials and name 100 official WWI Centennial Memorials across America.
Through 100 Cities/100 Memorials, 100 matching grants of up to $2,000 will be awarded for the restoration and preservation of World War I memorials in towns and cities across the United States. Any municipal government, individual, or organization is eligible to apply.
After the Great War ended in 1918, its memorialization took place on a very local level. Across the United States, many of the memorials to The Great War or The World War, as it was then called, were created by friends, families, and fellow citizens who sought to honor those that served in the war and memorialize those who did not return home.
This program seeks to foster a sense of heritage in local communities, to recognize local stories and people who were involved in the war, and create a way for community members to directly participate in the national World War One Centennial.The program is well-suited for community-service projects hosted by school groups, scout troops, veteran group posts, historical/cultural organizations, faith groups, local sports teams, and many other community groups in your area.
The first 50 WWI Centennial Memorials were announced Wednesday, September 27.
WWI CENTENNIAL MEMORIALS


| Memorial name | City | State |
| --- | --- | --- |
| • Memorial Park | Mobile | AL |
| • Veterans of World War l of the U.S.A Monument | Phoenix | AZ |
| • World War I Commemorative Plaque (circa 1923) | Berkeley | CA |
| • Carmel-by-the-Sea World War I Memorial Arch | Carmel-by-the-Sea | CA |
| • Chinese Americans Veterans Memorial | San Francisco | CA |
| • Memorial Tablet at Victory Memorial Grove | Los Angeles | CA |
| • Soldiers and Sailors Memorial | Wilmington | DE |
| • "Spiritualized Life" sculpture | Jacksonville | FL |
| • USS Tampa Memorial Window | Tampa | FL |
| • War Memorial Natatorium | Honolulu | HI |
| • John Burke Memorial Park-Polk County Gold Star Monument | Des Moines | IA |
| • Pierson World War I Monument | Pierson | IA |
| • Doughboy Statue | Morton Grove | IL |
| • Gold Star memorial at Guthrie Park | Riverside | IL |
| • Victory Memorial | Chicago | IL |
| • Village of Glen Carbon WWI Seaton/Trenatz Doughboy Statue | Glen Carbon | IL |
| • Wheaton Illinois WWI Obelisk | Wheaton | IL |
| • Winnetka Cenotaph Memorial | Winnetka | IL |
| • Victory Eagle WWI Memorial | Lawrence | KS |
| • Ninth Ward Victory Arch | New Orleans | LA |
| • Harvard World War I Monument | Harvard | MA |
| • Memorial Grove at Green Hill Park | Worcester | MA |
| • Fort George G. Meade WWI Memorial | Ft. Meade | MD |
| • Jacob Cousins Memorial Renovation Project | Portland | ME |
| • 'The Survivor' WWI War Monument | Beaverton | MI |
| • Soldiers Memorial Military Museum | St. Louis | MO |
| • World War I Doughboy Memorial | Jackson | MO |
| • "Over the Top to Victory" Doughboy Statue | Missoula | MT |
| • Gosman Statue | Dillon | MT |
| • Memorial Belltower | Raleigh | NC |
| • Burlington City Sons of the American Legion Rock of the Marne | Burlington | NJ |
| • Cape May Soldier and Sailors Monument | Cape May City | NJ |
| • Rutherford World War I Memorial | Rutherford | NJ |
| • World War I Memorial | Ridgewood | NJ |
| • Baldwin WWI Memorial | Baldwin | NY |
| • Dover Patrol War Memorial | Brooklyn | NY |
| • Highbridge War Memorial Doughboy Plaque Replication | Bronx | NY |
| • Hudson World War One Memorial | Hudson | OH |
| • The Spirit of the American Doughboy | Swanton | OH |
| • Muskogee Doughboy | Muskogee | OK |
| • Jenkintown Borough WWI Monument | Jenkintown | PA |
| • Trafford World War I Monument | Trafford | PA |
| • World War I Monument | Danville | PA |
| • Miantonomi Memorial Park Tower | Newport | RI |
| • Sgt. Alvin C. York Gravesite | Pall Mall | TN |
| • World War I Memorial Fountain | Jackson | TN |
| • Brown County Texas WWI Memorial | Brownwood | TX |
| • WWI Doughboy Monument | Ogden | UT |
| • The World War Memorial | Raymond | WA |
| • Spirit of the American Doughboy | Appleton | WI |
|
The final 50 WWI Centennial Memorials were announced April 5, 2018:
| Memorial Name | City | State |
| --- | --- | --- |
| 101 Memorial | Sheffield | Alabama |
| Yuma Armed Forces Park | Yuma | Arizona |
| Albert Harry Bode Gravesite | Jackson | California |
| Los Angeles Memorial Coliseum | Los Angeles | California |
| War Memorial Veterans Building and Opera House | San Francisco | California |
| Santa Monica Memorial Open Air Theater (Memorial Bronze Plaque) | Santa Monica | California |
| St. Anthony's Doughboy by Avard Fairbanks | St. Anthony | Idaho |
| WW1 Veterans | Alsip | Illinois |
| Soldier Field | Chicago | Illinois |
| WWI Doughboy in Veterans' Park | Elkhart | Illinois |
| The James Bethel Gresham Arboretum at Locust Hill Cemetery | Evansville | Indiana |
| Memorial Grove | Fort Wayne | Indiana |
| The Doughboy | New Castle | Indiana |
| WW1 Veterans Memorial by Leonard Crunelle | Clinton | Iowa |
| Women of Iowa WWI Memorial | Des Moines | Iowa |
| Solomon War/Veterans Memorial | Solomon | Kansas |
| Patton and the US Tank Corps | Fort Knox | Kentucky |
| The Grove of Remembrance | Baltimore | Maryland |
| Mount Greylock Veterans War Memorial Tower | Adams | Massachusetts |
| Godfrey Triangle WWI Monument | Springfield | Massachusetts |
| Wellesley Memorial Grove | Wellesley Hills | Massachusetts |
| Emile Ladnier WWI Memorial | Ocean Springs | Mississippi |
| The Memorial Trees at Beach Park | Keyport | New Jersey |
| Oradell World War One Memorial | Oradell | New Jersey |
| The Men of Springfield | Springfield | New Jersey |
| Riverdale, Spuyten Dyvil, Kingsbridge War Memorial Bell Tower | Bronx | New York |
| Governors Island World War One Memorials | Brooklyn | New York |
| Lynbrook Doughboy Memorial | Lynbrook | New York |
| WWI Centennial Room at American Legion Post 72 | Saugerties | New York |
| 1918 Fort Caswell Rifle Range Memorial | Caswell Beach | North Carolina |
| World War Memorial Building | Bismarck | North Dakota |
| Flaxton World War I Memorial Hall | Flaxton | North Dakota |
| Monument to WWI U.S. Airmen | Wright Patterson Air Force Base | Ohio |
| Caddo County Veterans Memorial/1922 Preservation | Anadarko | Oklahoma |
| Fort Towson World War I Memorial | Fort Towson | Oklahoma |
| Granite World War 1 Veterans Memorial Park | Granite | Oklahoma |
| Lackawanna County World War I Memorial | Dunmore | Pennsylvania |
| Scranton Memorial Bridge and Park | Scranton | Pennsylvania |
| American Legion Post 911 WWI Memorial | Shanksville | Pennsylvania |
| Springdale Veterans Memorial Field World War One Honor Roll Plaque | Springdale | Pennsylvania |
| Dell Rapids Veterans Memorial Park | Dell Rapids | South Dakota |
| Tennessee War Memorial Building | Nashville | Tennessee |
| Buffalo Soldier WWI Memorial | Houston | Texas |
| World War One Memorial, Veterans Plaza | Longview | Texas |
| Clarendon War Memorial | Arlington | Virginia |
| Nitro War Museum | Nitro | West Virginia |
| Soldier's Memorial | Romney | West Virginia |
| Tuscania Memorial | Baraboo | Wisconsin |
| World War I Memorial | La Crosse | Wisconsin |
| National World War I Memorial at Pershing Park | Washington DC | |