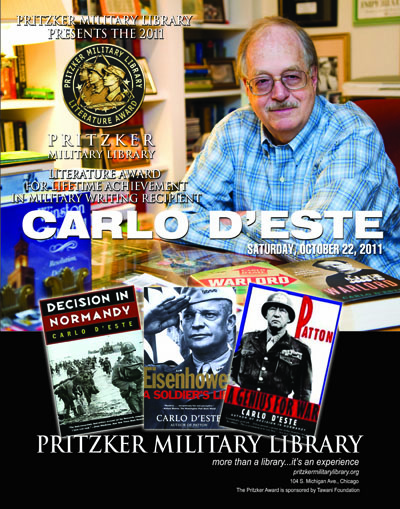 Carlo D'Este
Carlo D'Este was selected to receive the 2011 Pritzker Military Library Literature Award for Lifetime Achievement in Military Writing.
The $100,000 honorarium, citation and medallion, sponsored by the Chicago-based Tawani Foundation, was presented at the Library's annual Liberty Gala on October 22, 2011. 
The Pritzker Military Library Literature Award recognizes a living author for a body of work that has profoundly enriched the public understanding of American military history. A national panel of writers and historians – including previous recipients James M. McPherson, Allan R. Millett, Gerhard L. Weinberg, and Rick Atkinson – reviewed nominations and definitive works submitted by publishers, agents, booksellers, and other professional literary organizations.
D'Este's first book, Decision in Normandy (1983), offered a fresh perspective on the leadership of Field Marshal Bernard Montgomery and the Allied landings after D-Day. With Bitter Victory (1988) and Fatal Decision (1991), covering the battles for Sicily and Rome respectively, D'Este further established himself as an authoritative voice in the field of World War II scholarship. More recently, D'Este has turned his attention to the lives of major World War II leaders, delivering the acclaimed biographies Patton: A Genius for War (1995); Eisenhower: A Soldier's Life, 1890-1945 (2002); and Warlord: A Life of Winston Churchill at War, 1874-1945 (2008).
"This is a terrific honor and the highlight of my career," said D'Este. "I am humbled to be selected by the Pritzker Military Library and to be in the company of the great historians who have previously won this prestigious award."
A retired U.S. Army lieutenant colonel with service in Vietnam, D'Este has received the Legion of Merit, Bronze Star with Oak Leaf cluster, Meritorious Service Medal, and Commendation Medal for his military service. He is a co-founder of the William E. Colby Military Writers' Symposium, based at Norwich University, and currently serves as its executive director. D'Este is also a long-time elected trustee of the Mashpee, Massachusetts Public Library and the former president of the Friends of the Kreitzberg Library at Norwich University. He lives in Massachusetts with his wife, Shirley.