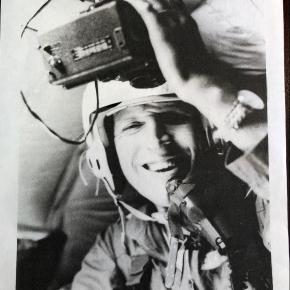 Derek Detjen,
Major
Derek Detjen served a long and distinguished career in the United States Air Force, all of it in their Strategic Air Command (SAC), attached to the B-52D, B-52G training programs and radar bomb scoring (RBS) site efforts. He is honored by Richard Roshto.
Derek Detjen entered the University of Cincinnati in the fall of 1954 as an Engineering major, quickly deciding on the Aeronautical field. As a full-time co-op student, he was assigned to Wright-Patterson AFB, where he worked in the structures testing field. In the spring of 1956 he was moved to the flight test section, and participated in the initial testing of the AF's KC-135A Stratotanker, at Eglin AFB, FL and then at Eielson AFB, NWT. It was during that flight to Eielson that he decided that flying was a lot more exciting than graphs of flap, rudder and aileron movements and chose to apply for USAF flight training. He finished the Harlingen AFB navigator school in 1961, as a distinguished graduate. Keesler AFB's advanced electronic warfare officer (EW) school was next, and in 1962, he was assigned to Turner AFB, GA as a B-52D aircrew member.
Serving his first combat tour in Vietnam in 1966, he came back in both 1967 and 1968 from Columbus AFB, MS as an instructor EW, staff mission briefer and spare crew member. By the fall of 1967, his crew was recognized as the first bomber crew to complete 100 combat missions. In 2009, he was enshrined by the USAF Museum in Dayton, OH, where his flight jacket and a picture of General Paul McConnell presenting him a 5th Air Medal are displayed.
From 1969 to 1973, Major Detjen served with a small, elite group of instructor crew members at Castle AFB, CA,  retraining over 600 B-52 G/H model crew personnel into the older D model prior to their tours in Vietnam. During this time he returned to Guam a 4th time, flying his 161st and last mission in North Vietnam as a staff instructor.
From 1973 to 1977, he was the operations officer at Wilder RBS site in Idaho, then operations officer and commander at Ashland RBS site in Maine. His final five years were spent at Barksdale AFB, LA, supervising the B-52G and KC-135 emergency war order academic training efforts. In 1982, he was duly rewarded by being chosen as one of two officers from Barksdale AFB to participate in NATO's highly successful Crested Eagle exercise in Europe. He retired in October of 1982.
A year later, he was hired by General Dynamics, Electric Boat Division, ultimately working for five years in the Navy's Trident submarine program, four years of it at NSB, Kings Bay, GA where he led the ship's configuration management program.  While there, he achieved his graduate MPA degree from Valdosta State U., being recognized as their top graduate student. He was offered a job as an adjunct professor with them at Kings Bay.
In 1991, his last teaching positions were at Aiken Tech College, first at the Savannah River Site and then leading both the Management and Marketing majors on campus. He was actively involved in the South Carolina Inter-national Education Consortium, (SCIEC), leading the state's efforts to update their curriculum efforts to reflect a more global emphasis. He retired from Aiken Tech in early 2001.
His military decorations include a Distinguished Flying Cross (DFC), eight Air Medals (AM) a Meritorious Service Medal (MSM), a Combat Readiness Medal with 2 Oak Leaf clusters and many lesser awards including a Vietnam Service Medal with a silver star.
Major Detjen is a life member of the Military Officer's Association of America (MOAA), the Air Force Association (AFA), the Train Collector's Association (TCA) and the Four Freshmen Society.
He now pursues his lifetime hobbies of model trains and railroad history, attending many regional train events as an amateur marketer of all types of railroadiana.
In conclusion as an aside, while at the U. of Cincinnati, Major Detjen had the unfortunate luck in the spring of 1955 to try out for U.C.'s baseball team as a left-handed pitcher the very same day that Sandy Koufax did, terminating his budding baseball hopes before they began!
Book Dedicated: B-52 Stratofortress Units in Combat 1955-1973