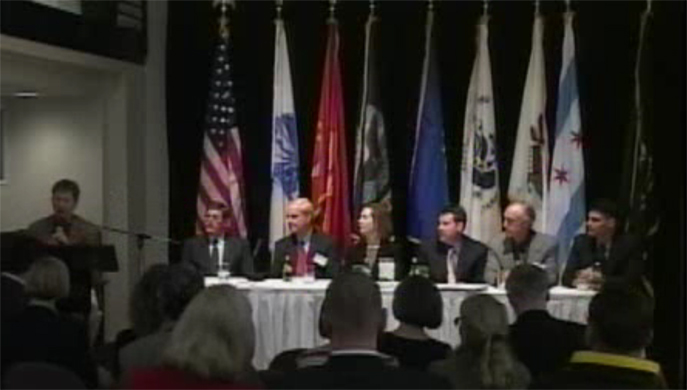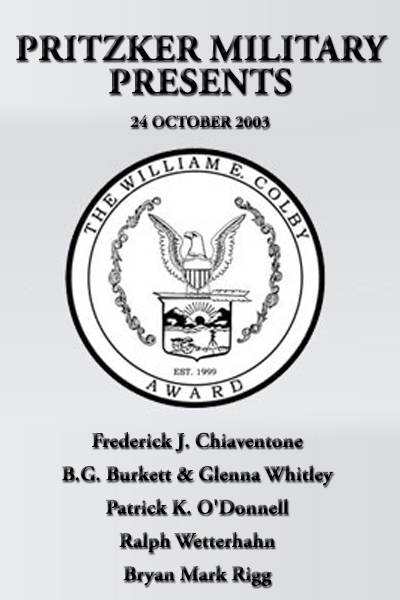 Record date:
Colby Award Winners at the Pritzker Military Library
Moderated by Author Sean Naylor, six Colby Award Winners talk about their award winning books.
1999 Colby Winner for A Road We Do Not Know, Frederick J. Chiaventone
2000 Colby Winners for Stolen Valor, B.G. Burkett & Glenna Whitley
2002 Colby Winner for Beyond Valor, Patrick K. O'Donnell
2002 Colby Winner for The Last Battle, Ralph Wetterhahn
2003 Colby Winner for Hitler's Jewish Soldiers, Bryan Mark Rigg
The William E. Colby Award was established in 1999 by the William E. Colby Military Writers' Symposium at Norwich University in Vermont in order to recognize "a first work of fiction or non-fiction that has made a major contribution to the understanding of intelligence operations, military history, or international affairs." It is named in honor of William Egan Colby. The Colby Circle was co-founded by writers Carlo D'Este and W.E.B. Griffin. From 2003 to 2011, The award was administered by the Tawani Foundation in Chicago, and presented at the annual Liberty Gala of the Pritzker Military Library. It is now again administered and awarded by Norwich University.