The Museum & Library's donors provide critical support needed to bring citizens and soldiers together and advance the understanding of military history, military affairs and national security toward the preservation of democracy.
Tax-deductible contributions help the Museum & Library:
Maintain the library collection of more than 70,000 titles—searchable on pritzkermilitary.org and available in person, via e-book and through interlibrary loan
Maintain the museum collections, upload new items to the online digital archive and create new and compelling exhibits exploring the legacy of the citizen soldier
Record and produce award-winning programs for broadcast on Chicago public access television and online viewing, as well as downloadable podcasts
Provide research assistance to everyone from individual citizens to universities, service academies and military staff colleges, ensuring that future military and civilian leaders are prepared
Offer veterans and active military service members access to the Veterans Information Center, and the opportunity to record their stories of service through the Holt Oral History Program
Maintain this website and all that it has to offer as the central hub of the Museum & Library's work, including streaming video, audio podcasts, and virtual exhibits
Ensure that we remain a non-partisan, non-governmental information center accessible by all to study and discuss military history
Make your donation online using the fields above, or download and submit by mail a donation form. Don't forget to check if your employer has a matching gift program—many companies match employee donations to nonprofits—and double the impact of your contribution!
Have Questions? Call the Museum & Library at 312-374-9333 and ask to speak with our Development Office, or email us at development@pritzkermilitary.org
Giving to PMML
The Pritzker Military Museum & Library was founded in 2003 by Colonel (IL) J.N. Pritzker IL ARNG (Retired). It is a nonprofit, nonpartisan 501(c)(3) organization. All donations are tax-deductible to the extent allowed by law.
Watch the Oral History Video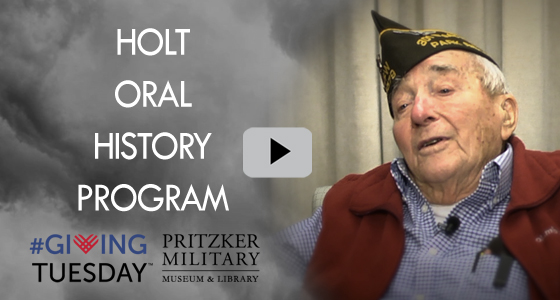 Your donation help support programs such as the Holt Oral History Program. Watch the  Stories of Service video.
Shop PMML Merchandise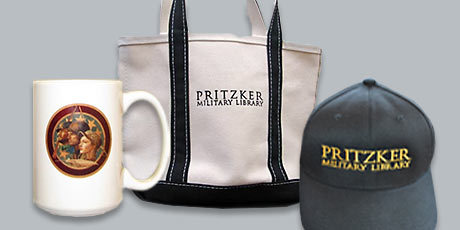 The Museum & Library shop offers a wide selection of souvenirs, apparel, books, and more.
Support Us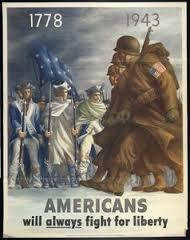 Download and submit this form to make a donation or become a member of the Museum & Library in person or by mail.