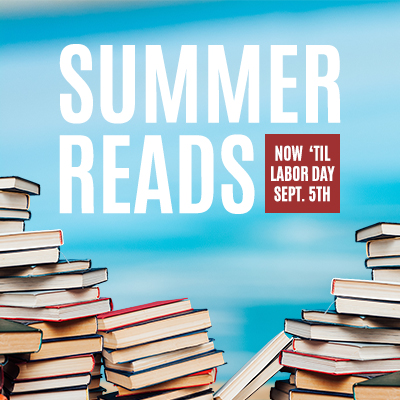 Summer Reading Program
The 2022 Summer Reading Program has concluded. Congratulations to our winners, Whitney B. of Waukegan and Keith K. of Chicago!  
The library has many unique and interesting titles. If you're looking for some summer reading ideas, here are some recommendations:
1st prize package:
Polish Cold War Neon by Ilona Karwińska
Lest We Forget T-shirt
4 military rubber ducks
PMML baseball hat
WWII clicker
Paper hat
War on Errors erasers
Soldier Action stickers
We Can Do It posters from WWII cards
PMML Tote bag
Total value: $110
2nd prize package:
PMML baseball hat
Lest We Forget T-shirt
PMML Tote bag
In the Lake of the Woods by Tim O'Brien
The Things They Carried by Tim O'Brien
Commemorative Key Chain
Total value: $74 
If you have any questions, please email us at librarian@pritzkermilitary.org.