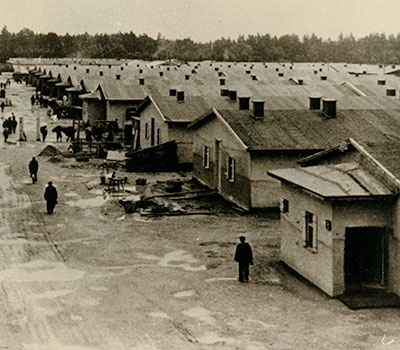 May 12, 2022 - Apr 15, 2023
Life Behind the Wire: Prisoners of War
A riveting exhibit highlighting never-before-seen collections from prisoners of war exposing the struggles, challenges, and triumphs of life in captivity.

Most people aren't aware of the drastic differences that exist between varying prisoner of war (POW) experiences. The camp and captor greatly determined the lifestyle and treatment these prisoners received.  
What happens when a soldier, sailor, airman, or marine is captured during war? How do they cope with the physical and mental toll of prison life after capture? The experience was different for each individual forced to endure capture by the enemy. Food was scarce for some, others received adequate meals, exercise, and camaraderie. Some endured long hours of work. Many were limited to just a few words for outside communication.  
From escape attempts and their consequences to the ingenuity and inventiveness of prisoners, Life Behind the Wire draws from the special collections and archives of the Museum & Library, along with never-before-seen prisoner of war materials on loan to the museum. The exhibit focused on POWs from WWII and the Vietnam War, and how those experiences highlight the perseverance of the citizen soldier when faced with insurmountable odds.  
Visitors explored artifacts, archival materials, photographs, and oral histories that examined international laws pertaining to POWs, day-to-day life in a prisoner of war camp, and individual reflections of life as a POW. Life Behind the Wire looked at these individual's experiences to illustrate how the POW experience has changed throughout American military history as well as how POW perspectives fit into the larger narratives of war.